After quarterback Kenny Pickett threw a 78-yard touchdown pass on the very first play of Pitt's second quarter drive, the longest pass play for Pitt since Nov. 26, 2016, Tech's season suddenly seemed fuzzy.  It needed this game to keep from almost not being bowl eligible — something Tech hasn't batted an eye about in almost a decade and a half, not to mention staying alive in the contention for the ACC title game.
Throughout the first half of Saturday's contest at Heinz Field, the Panthers put their foot on the gas and didn't look like they planned on letting up. Pitt's rush attack was strong and consistent, and scored off both of their first half drives.
Running backs Qadree Ollison and Darrin Hall overwhelmed Tech's defense, racking up big gains right and left. By the end of the first quarter, they had racked up a combined 90 yards. By the end of the first half, the pair had each netted over 100 yards, including an 8-yard touchdown run from Ollison.
Suddenly, in the thick of the second quarter, there seemed to be a glimmer of hope. A turning point for the Hokies. A forced fumble from Jermaine Waller in the Pitt end zone with recovery by Rico Kearny started the drive that would end in Tech's first TD on the board — a 29-yard pass to Eric Kumah. Finally, some relief.
Not long after, Maurice Ffrench slid by the defense for a 12-yard touchdown run, followed by another score — this time started by a 13-yard Pickett rush and punched in by George Aston.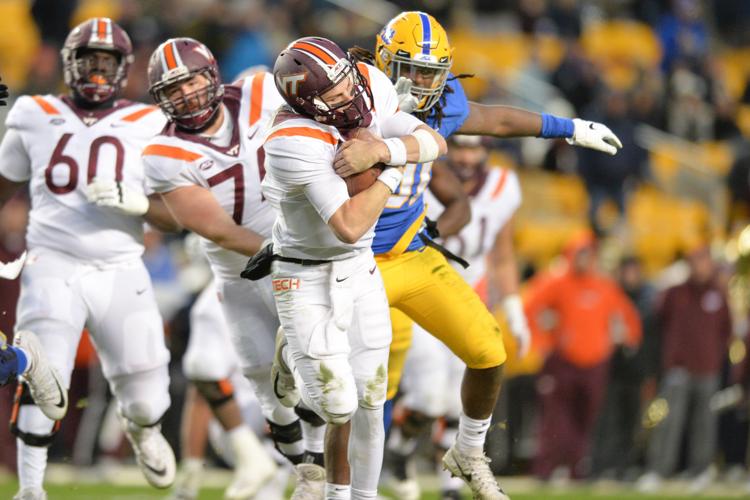 That was just the first half. The Hokies left the field trailing 31–7, after being almost forced off by the Panthers when they took down Ryan Willis for a 10-yard loss as the clock wound down to zero.
It's at this point that the gravity of the game starts to set in. A win for the Hokies would greatly help their chances at being an ACC title contender and put them on track to be bowl eligible once again. A loss would push them further down in the ACC standings and dash their hopes of making it back to Charlotte for the ACC title game. The Hokies needed to show up and show out. They didn't just need to play; they needed to perform. Instead, the game became hard to watch for Tech fans while Pitt's backs each scored on rushes that were over 70 yards.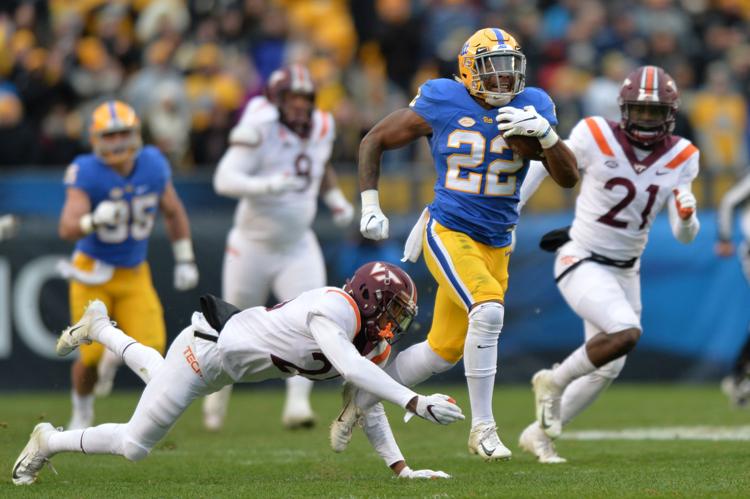 To their credit, the Hokies never completely gave up. This should be something that the team, as well as Tech fans, take as a hopeful observation. The second half lent itself to two more scoring drives for the Hokies, and despite also allowing three touchdowns, Tech never allowed Pitt to completely close off an opportunity for a comeback.
"We have a 'no-quit' attitude at all times," said a visibly-disappointed quarterback Ryan Willis. "I saw it in my guys' eyes, no one was giving up, no one was quitting."
But the 97-yard touchdown run from Ollison with just five minutes left in the game — Pitt's longest rushing TD in program history — just isn't conducive to Tech's ambitions at this point in the season. The young team watched its hopes slip away as each minute passed, and let more salt into the wound. The Hokies allowed 654 total yards of offense Saturday night, a new school record for Pitt and the second most yards ever given up by Virginia Tech in program history.
"We're trying to teach our guys through this. It doesn't mean we're not being demanding of them; we absolutely are," said head coach Justin Fuente. "But come game time it's time to solve problems and fix things and continue to bring those guys through."
Statistics like this lend itself to frustrations from coaching staff and players, as the team grapples with teaching its young corps and cycling through new players in the starting position as defensive players drop like flies. Houshun Gaines is the most recent in the series, going out during the third quarter and returning in a brace and on crutches. It's almost as though this team has sustained the perfect storm to create the most frustrating defensive situation this team has seen in years.
"It's a new experience for a lot of us; it's been a long time since we've been like this. But we've got kids that fight, and we've got a staff that fights and we're gonna get back to work and that's all we can do," said defensive coordinator Bud Foster.
Defensive back Ricky Walker, a senior leader on the team, shared the coach's frustrations. With his added responsibility to put his own feelings aside during the game and keep his younger teammates motivated, he had no excuses for the defense.
"Everyone's been saying we're young since January, it's not an excuse."
"I thought we had a good week of practice," added Foster. "And I can point a lot of fingers, but ultimately they all come back to me."
At the end of the day, sometimes it's best to just say what's done is done. Tech still has a chance to extend its famous bowl streak and finish the season with a respectable record and hopes for next season. The Hokies will be back in Lane Stadium next Saturday for another ACC matchup against Miami, a crucial game in the fight to remain bowl eligible.