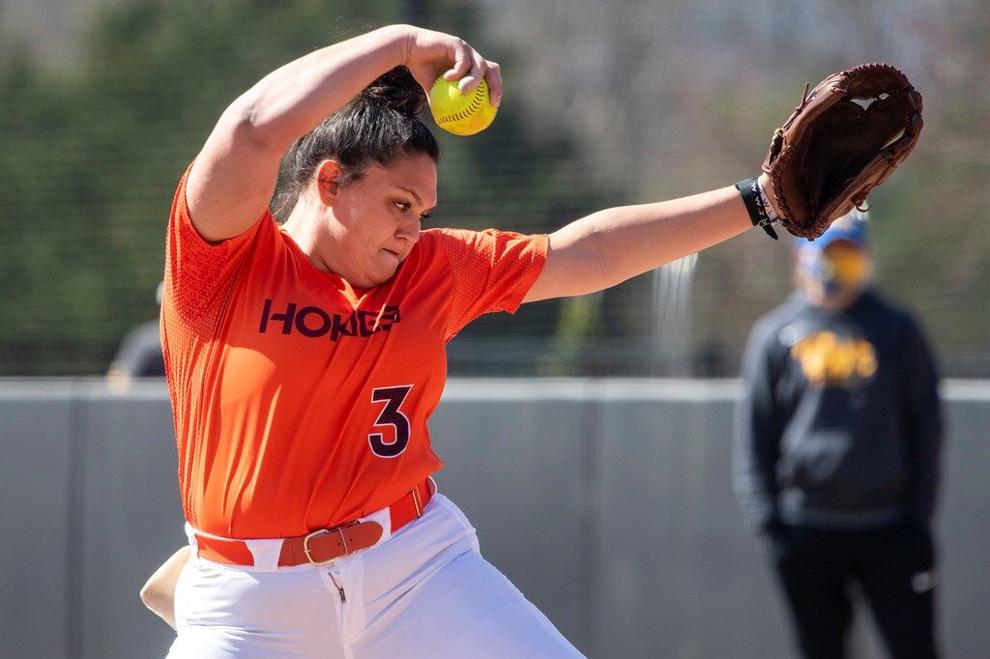 Keely Rochard, pitcher for the Hokies' softball team, has been performing incredibly well to propel Tech to the No. 19/16 spot. The 5-foot-8-inch junior had a career-high performance on March 20 on the latter half of a doubleheader. Rochard accumulated 19 strikeouts against the Pittsburgh Panthers, which eventually led to the Hokies winning the series.
Her performance has been recognized within the ACC and nationally as Rochard continues to add accolades to her career. Rochard was recognized by the National Fastpitch Coaches Association as National Pitcher of the Week on March 23; this is her second time receiving the honor this season and the fifth time in her career. 
As a result of pitching four shutout games during the week of March 22 – 30 against the University of Virginia and Louisville, the Williamsburg, Virginia, native was recognized as the ACC Pitcher of the Week on March 30. This was her second time receiving the title this season and the eighth of her career.
When asked what has sparked this sudden explosive performance, Rochard states she has not changed her playing style.
"I know my stats have been doing better recently, but I feel like I've been able to be pretty steady with my command and am feeling confident with hitting my spots with my off-speed," Rochard said.
During the back-to-back games on March 20 against Pittsburgh, both of which Rochard pitched for, she remained steady throughout both matchups. After the team dropped the first game 5 – 3, Rochard remained focused and came back to the mound determined. For this game, Rochard denied the Panthers any runs with a final of 5 – 0. 
Rochard has her own personal recipe for remaining calm and it has proven to serve her well throughout her career.
"Some things that help me (to stay focused) are the preparation that I do beforehand and how that gives me confidence during the game," Rochard said. "(Also) the calmness that I keep internally when things don't go the way I may have wanted them to. Then the support of my teammates on and off the field is something I always remember during a game." 
Rochard's teammates were fully supportive after the game against the Panthers. They all ran up to surround her, echoing congratulations. Rochard could be seen smiling in the huddle, the first time breaking her concentration since parting from the mound. 
Following the Pittsburgh series came her shutout pitching performance against the Hokies' rival UVA. Despite the rivalry, Rochard and her teammates do not place any particular emphasis on the matchup.
"Even though they are our rival and all of my teammates enjoy playing them, we treat each game the same," Rochard said. "When I am able to get a shutout, I don't really think it tastes sweeter — if you will — when it's versus UVA. We respect them a bunch and enjoy playing them every year." 
As previously mentioned, Rochard has been the recipient of multiple awards and recognitions over the past couple of weeks. In regards to the NFCA National Pitcher of the Week title, Rochard points to her teammates as a source of her success.
"Even though it is an individual award, I have to give credit to my two catchers, Mackenzie Lawter and Alexa Milius, who have been great catching for me this season," Rochard said. "Their ability to frame my (pitches) and give me pointers throughout the game has been very helpful. Then my defense behind me has been stellar all year, committing very few errors and making great plays left and right."
Rochard has had an exciting career so far, but she still feels the same amount of excitement when receiving recognitions such as ACC Player of the Week.
"It always feels good to be honored, whether that's within the conference or nationally," Rochard said. "Similar to the NFCA award, I know my teammates made it possible and I know they are proud of me, too. So, it's cool, but not why I play the game."
Rochard and the Hokies are 20 – 5 overall and 13 – 5 in the ACC thanks to a total-team effort. Tech looks to continue their success in its upcoming series against Duke and Longwood.