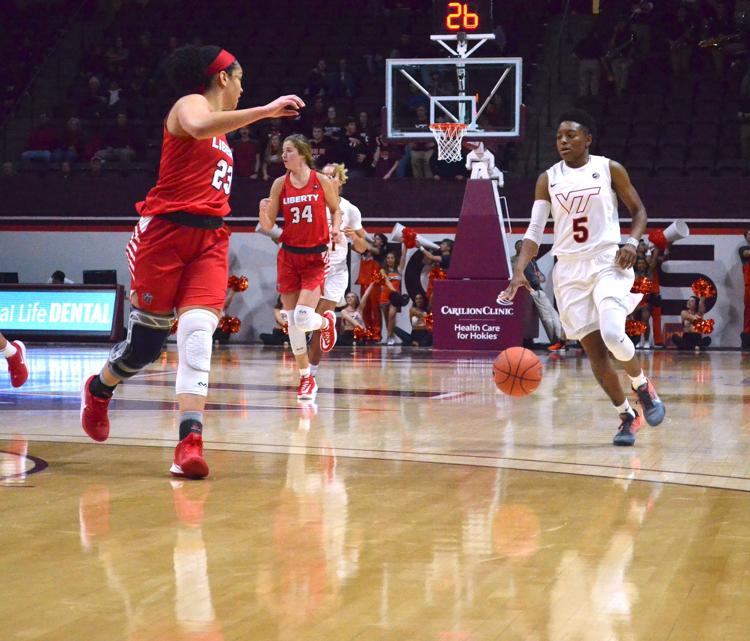 In their second home game of the season, the Hokies edged out in-state rival Liberty 73-69 for a non-conference win Nov. 15. However, it was not done in fashion head coach Kenny Brooks would have liked.
Foul trouble for Aisha Sheppard resulted in 37 and 40 minute games for Dara Mabrey and Taja Cole, something Brooks is not very comfortable with.
"We got beat on the scout all night long," Brooks said. "We weren't able to be free-flowing like we wanted to. The foul trouble threw our rhythm off."
Sheppard started out strong for the Hokies, scoring nine points in the first quarter, but picking up two fouls along the way. Liberty kept up though, with most of its scoring coming from the paint.
Tech was able to gain more of a lead in the second quarter thanks to its sharp shooting. The Hokies' field-goal percentage was 54.5%, also with two 3-pointers coming from Mabrey. She led the Hokies in first-half scoring with 10.
After a few strong possessions from the Flames, though, they were able to cut Virginia Tech's lead to only two possessions by halftime with a score of 36-32. However, the Hokies showed grit on Liberty's side of the court and forced three shot-clock violations in the first half.
In the second half, the Hokies started feeding the ball more to center Elizabeth Kitley under the basket. She made quick layups and drew a few shooting fouls. But she picked up her third foul less than halfway through the third quarter and saw reduced minutes the remainder of the game.
The score remained close for most of the third quarter, but a few big possessions from the Hokies gave them a 12-point lead. Mabrey and Cayla King made 3-pointers to get the momentum going. Tech blocked shots under the basket and stole possessions from Liberty as well as picking up eight points on the foul line.
The Flames went on a 10-0 run in the fourth quarter to make it a one-possession game with 4:30 left to play. Cole then hit a jumper and Liberty's Keyen Green picked up her fifth personal foul soon after and hit the bench with 14 points on the game.
A transition basket coming from a steal credited to Sheppard made it a two-possession game with just over two minutes of regulation left. She then sank two more shots to make it six straight points of offensive coming from her. She ended up finishing with 20 points, while playing just under 20 minutes.
But, Virginia Tech could not seem to shake the Flames; Liberty hit a huge 3-pointer inside 45 seconds to play to come back within two points. Continuous fouls on both teams kept Tech's lead to two points, until foul shots from Sheppard put the Hokies up four with 10 seconds in regulation. Liberty was not able to make a play in the final seconds and the clock expired with Virginia Tech on top.
Rebounding and turnovers proved to be points of concern for the Hokies throughout the game. Tech was outrebounded by four, however Brooks said it seemed like much more. The team also gave up 21 possessions in turnovers, often getting tied up under the basket.
"We're still forming our identity; people are still getting used to their roles," Brooks said. This is a great opportunity for us to learn; that's what you want in non-conference..
The Hokies continue their non-conference schedule with a game against Maryland Eastern Shore on Nov. 19 back in Cassell.