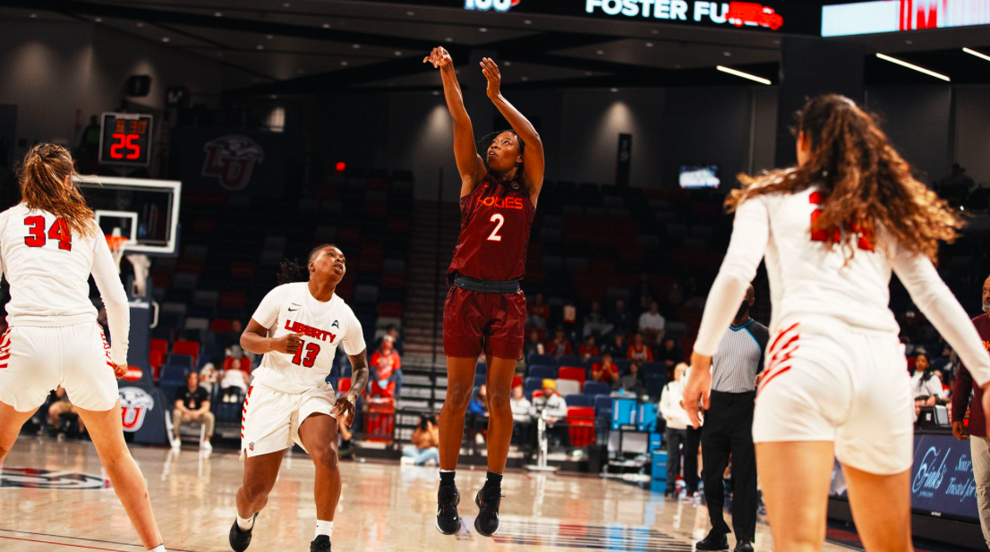 The Virginia Tech women's basketball team (7—3) took on the Liberty Flames (8—1) in Lynchburg, Virginia on Dec. 7.
The Hokies struggled offensively to start the game, shooting 2—14 and missing their first 10 shots from 3-point range.
Liberty went on a hot streak from behind the arc in the first quarter, making three out of its first four attempts. They led by a score of 15–6 at the end of the quarter.
The Hokies had trouble protecting the ball in the first half, turning it over 11 times. The guards had a tough time getting the ball inside to center Elizabeth Kitley as Liberty keyed in on stopping her.
Liberty led the Hokies 30—19 at the end of the first half. The Hokies were led by Aisha Sheppard, who had 11 of the Hokies' 19 points in the first.
Both teams traded baskets as Liberty kept its 11-point lead in the third quarter, leading 43–32 over the Hokies.
The Hokies also struggled to stop Liberty from getting the ball inside and getting easy layups in the second half. Liberty created more opportunities by out-rebounding the Hokies by 10 boards.
The second half was a direct reflection of the first half. The Hokies could not turn around their shooting woes despite playing great defense.
The Hokies ended the game shooting 28% from the field and 22% from 3-point range. They also committed 19 turnovers.
Sheppard led the Hokies in scoring with 17 points, and Kitley added 7 points.
The Hokies fall to 7—3 for the season. They come back to Blacksburg to play Radford on Sunday, Dec. 12, at 2 p.m.