The Virginia Tech men's basketball team (14-7, 5-6 ACC) hosted the nationally ranked No. 5 Florida State Seminoles (17-3, 8-2 ACC) on Saturday, Feb. 1. The last time the two teams met was in last year's ACC Tournament when Virginia Tech suffered a heartbreaking overtime loss.
The Hokies came into Saturday's game looking to rebound from back-to-back losses against Boston College and Miami. Meanwhile, the Seminoles were looking to come back from an upset loss of their own against UVA in Charlottesville earlier this week.
The first half saw Florida State jump out to a 13-4 lead before a Virginia Tech scoring run, highlighted by Hunter Cattoor scoring 10 points in three minutes, which cut the Hokies' deficit to as low as one point. Scoring between the two teams would remain fairly even throughout the rest of the half, with the Seminoles leading by a score of 34-29 going into halftime.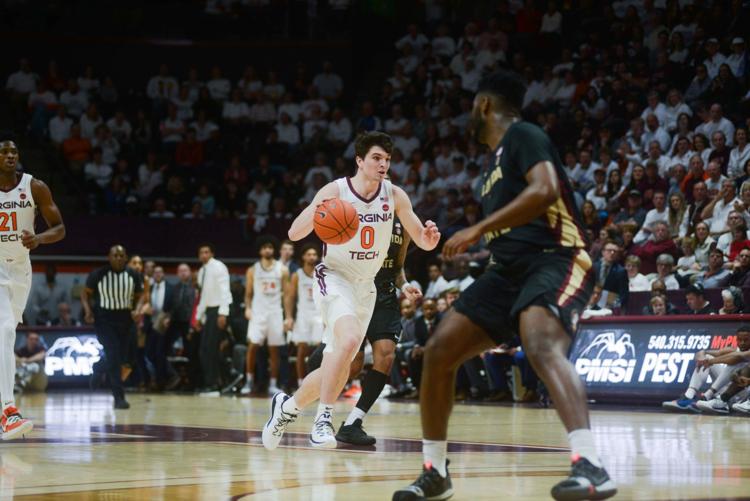 The Seminoles managed to pull away in the second half by a score of 60-44 with 9:25 left in the game. Virginia Tech would go on yet another brief scoring run, capped by a ferocious left-handed dunk by Nahiem Alleyne in transition, to cut the deficit back down to seven points. Despite their resilience, the Hokies failed to get any closer to the Seminoles' lead for the rest of the game.
The most notable performance of the game easily belonged to Florida State's Devin Vassell, who led both teams with 27 points and shot a perfect seven-of-seven on 3-pointers.
"He's a killer," guard Tyrece Radford said. "The main thing on their team is knocking down shots when they need them."
Radford led Virginia Tech in the scoring column with 18 points, with Landers Nolley II chipping in 14 points despite a lackluster shooting performance in which he went five-of-16 from the field. Cattoor was the only other Hokie in double-digits with 10 points.
A particular point of frustration for the Hokies was yet another quiet shooting night with a 3-point average just north of 23% and an overall field goal percentage of 43%.
"We are who we are," coach Mike Young said. "I don't want to have to shoot 30 times from three, but we are kind of locked into that right now."
Next up on the schedule for Virginia Tech is a stretch of four games against teams with losing conference records starting with Georgia Tech in Atlanta next Tuesday, Feb. 4. When asked whether or not this stretch of games would be pivotal for the rest of the season, coach Young made it fairly clear:
"We've got to get our asses in gear," he said.