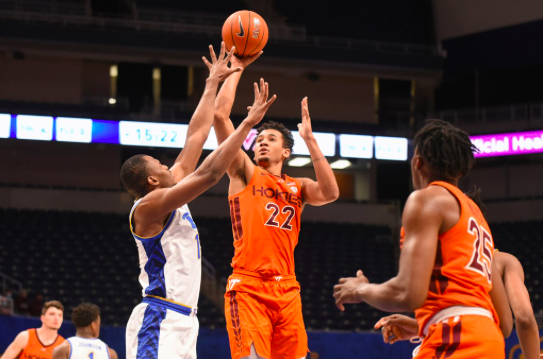 Two teams seemingly headed in opposite directions squared off on Feb. 3 at the Petersen Events Center, with the slumping team finding a way to come out on top.
The No. 16 Virginia Tech Hokies (13-4, 7-3 ACC) suffered an uncharacteristically poor defensive performance and lost to Pittsburgh 83-72 (9-5, 5-4 ACC), ending the Panthers' three game skid. All four losses by the Hokies this season have been to unranked teams while holding an AP ranking.
Coming off a huge 65-51 win against archrival and then-No. 8 Virginia, the Hokies shot 9-30 from 3-point range and got 13 points combined from Jalen Cone and Nahiem Alleyne, plus a scoreless outing from senior Wabissa Bede.
Keve Aluma continued to carry a major offensive load, scoring 30 points, including 4-6 from 3-point range. Frontcourt mate Justyn Mutts chipped in 17 points as well. On the other side, struggling Pittsburgh guard Xavier Johnson erupted for 32 points off the bench on 11-17 shooting from the field, helping to offset a pedestrian night from star Justin Champagnie, who scored just 10 points.
A back-and-forth first half ended with the game tied at 31. While the Hokies struggled with poor guard play, Pittsburgh toughened up in the paint, out rebounding Virginia Tech 33-31 and pulling away late with a 13-0 run that gave it a 70-55 lead. The Panthers shot 50% from the field, including 57% after halftime.
"Let's be honest; Pittsburgh was the more physical team," coach Mike Young said. "They were the tougher team tonight. They were hungrier. They were more desperate. Great work from Coach Capel and his staff."
Pittsburgh will play a rescheduled game against No. 14 Virginia on the road this Saturday, while Virginia Tech will travel to Coral Gables, Florida to play Miami. Young does well in getting the team to respond, as the Hokies have not lost consecutive games yet this season.