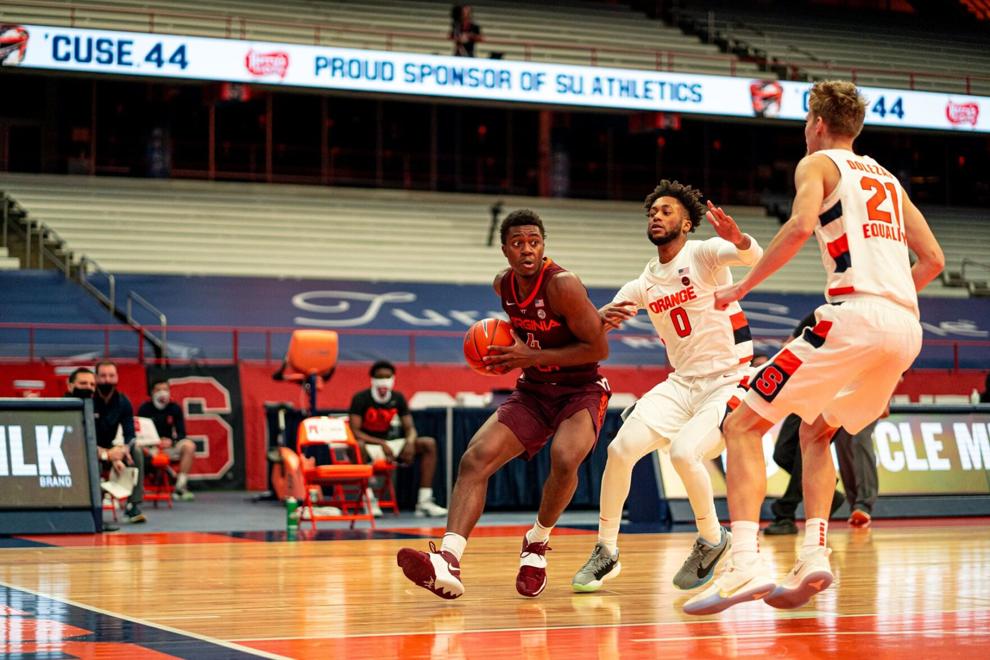 The No. 16 ranked Virginia Tech men's basketball (11-3, 5-2 ACC) team saw their hot streak come to an end on Saturday when they travelled to the Carrier Dome to play the Syracuse Orange (9-4, 3-3 ACC).
The Hokies streak coming into the game had included big wins against conference foes such as Duke, Notre Dame and Wake Forest. Meanwhile, Syracuse came into the game riding the momentum from a dominating home victory over Miami on Tuesday night.
The first half saw both teams executing vastly different gameplans on offense. While the Hokies stuck to shooting from the perimeter, Syracuse was determined to force the ball into the paint. This led to the Orange drawing more fouls and shooting more free throws which helped them jump out to a 40-34 lead at halftime.
From there, the second half belonged to Syracuse. Not only did the Orange continue to get points in the paint with ease, but their 2-3 zone defense stymied the Hokies' at every turn. This led to Virginia Tech finishing the game with an unsatisfactory 32.8 FG% while shooting 8-29 from three-point range.
"You gotta put the thing in the basket; there are no big secrets," said head coach Mike Young in regard to the Hokies poor shooting day. "I don't care what kind of defense you're playing against and we didn't do enough of that today."
The standout performance for Syracuse came from Quincy Guerrier who led his team in scoring with 20 points. Other impressive performances came from guard Alan Griffin who had 15 points to go with 7 blocks as well as forward Marek Dolezaj who chipped in 18 points while playing every minute of the game.
The only true standout player for Virginia Tech was Nahiem Alleyne who led the team with 20 points. Key contributors Keve Aluma and Jalen Cone both had lackluster performances shooting a combined 2-19 from the field with 5 points total.
"You need your better players to play well," Young said. "I feel certain they'll be better against Notre Dame."
Virginia Tech will look to rebound on Wednesday at 7 p.m. when they travel to South Bend, IN to face the Notre Dame Fighting Irish.