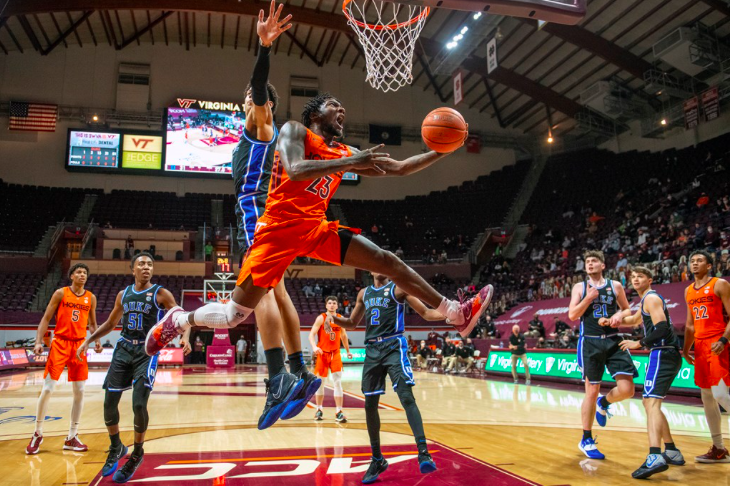 No. 20 Virginia Tech (10-2, 4-1 ACC) earned its third top-25 win of the season on Tuesday night, as Mike Young's squad led for all 40 minutes of the Hokies' 74-67 win against the No. 19 Duke Blue Devils (5-3, 3-1 ACC).
"I've got a pretty good team," head coach Mike Young said. "I think we've got a chance to be really good. We're not really good right now."
Virginia Tech set the tone early, jumping out to an 11-2 lead in the first four minutes of the game.
Jalen Cone did what he has done all season as the Hokies' sixth man, scoring eight points in three minutes after first entering the game to extend the lead. Cone finished with 14 points on 44% shooting from the field with three 3-pointers.
The Hokies played one of their more complete first halves of the year, forcing eight Duke turnovers and shooting 66% from the field, including 4 of 7 from the 3-point line in the opening 20 minutes.
Virginia Tech went into the locker room up 46-34, despite leading by as much as 18. Nonetheless, 46 points was the Hokies' highest scoring first half of the season.
"We had a nice level of inside-outside," Young said on the first half performance. "We got a couple second shots and I thought we moved really well in transition. Shot selection was good."
Duke quickly cut into its 12-point deficit early in the second half, out-scoring Virginia Tech 13-5 in the opening five minutes to make the score 51-47 Virginia Tech.
Guard Jeremy Roach and forward Matthew Hurt were the key playmakers for the Blue Devils as they brought Duke back into the game.
Roach finished with 22 points and the Virginia Tech guards were unable to contain him off his dribble penetration. Hurt couldn't find his shot in the first half, but still finished the game with 20 points and 11 rebounds.
With 13:49 left in the game, Duke cut Virginia Tech's lead to two, but Keve Aluma showed his All-ACC potential, scoring seven straight points for Virginia Tech to make the score 60-55 midway through the second half.
"To be able to put that [ball] down there with that big rascal and let him do his thing is a real luxury." Young said about Aluma. "He's a whale of a ball player."
From that point on Virginia Tech's defense stepped up, and the Hokies were able to maintain a multiple-possession lead for the rest of the game.
Both teams were unable to find an offensive rhythm in the second half, with Virginia Tech shooting 9 of 26, and Duke shooting 12 of 34.
After a Hurt jumper with 5:56 remaining in the game to make the score 68-61 Virginia Tech, Duke failed to score another basket until the final seconds of the game.
Despite Virginia Tech's offensive struggles, it was able to put away the Blue Devils thanks to free throws from Tyrece Radford, Aluma, and a dunk from forward Justyn Mutts, who has provided energy in the frontcourt.
Radford played his tail off in a much needed performance after failing to reach double figures in Virginia Tech's last two games. Radford posted a team high 18 points on 58% shooting while adding 12 rebounds and five assists.
"The kid [Tyrece] Radford was the best player on the court," Duke head coach Mike Krzyzewski said after the game. "They have other great players, but tonight, he was the key guy."
The Hokies are now 4-1 in their last five contests against Duke when playing at Cassell Coliseum, a record that dates back to the 2016 season.
Virginia Tech remains in third place in the ACC after Tuesday's win, and will head to Winston-Salem, North Carolina on Sunday to play the Wake Forest Demon Deacons (3-3, 0-3 ACC) at 6:00 p.m. on ACC Network.