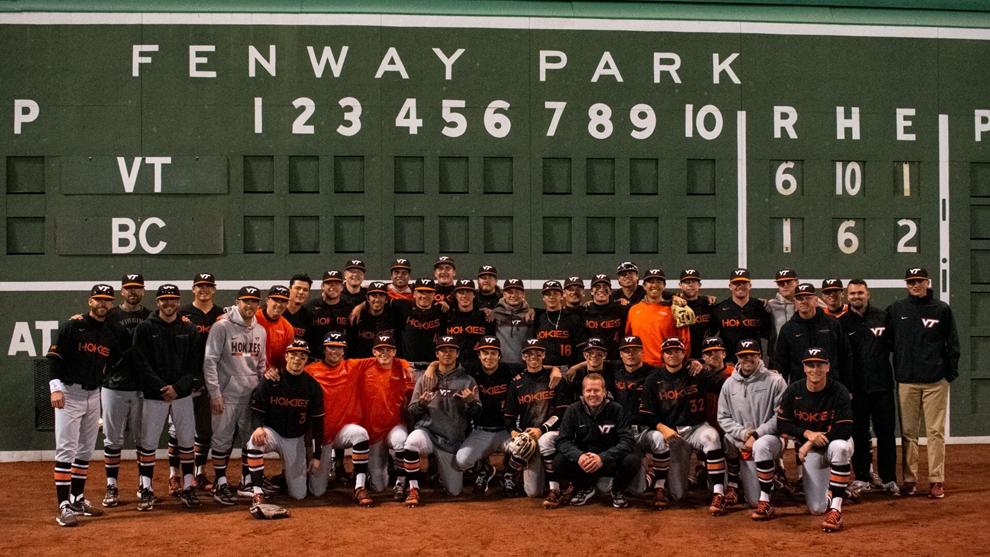 After winning its last four weekend series against ranked ACC teams, Virginia Tech (28–9, 12–7 ACC) traveled to Brighton, Massachusetts, this past weekend and swept the last-place Boston College Eagles (15–25, 3–18 ACC).
In addition to this being the Hokies' first ACC series sweep of the season, it's also their first sweep of the season since their series against Fordham back in late February.
The first game featured a pitching duel between the Hokies' Friday starter Griffin Green and the Eagles' ace Joe Mancini.
Green, a product of Chelmsford, Massachusetts, had plenty of friends and family from his hometown in attendance to witness him shut down the Eagles' bats through 6.2 innings, throwing as many strikeouts as he had hits given up with seven. Graham Firoved came in from the bullpen to finish the complete game shutout.
Conversely, Mancini pitched well up until the seventh inning, when he gave up back-to-back home runs to Gavin Cross and Tanner Schobel. Those two runs were all the Hokies needed to grab their first win of the series.
The second game of the series, marked as the 10th Annual Boston College ALS Awareness Game held at Fenway Park in Boston, featured a bit more offense, as Jack Hurley finished with three RBIs and Cross finished with two.
The teams were deadlocked at one run a piece until the bottom of the sixth inning, when Hurley blasted a two-run home run to right field. Cross and Schobel peppered in RBIs of their own as the Hokies cruised to a series-clinching win.
Saturday's game was also highlighted by the performance of Hokie freshman starter Drue Hackenberg, who collected his eighth win of the season after going seven innings only yielding six hits and one run.
Finally, Sunday's game posed the biggest challenge to the Hokies, as they've grown accustomed to dropping the final game of their last three series. However, the Hokies stayed in the game this time around, weathering an attempted comeback from the Eagles to take the third game, courtesy of a three-run double from catcher Cade Hunter.
The Hokies also finally received a serviceable Sunday pitching performance as Jordan Geber and Henry Weycker both pitched a little over four innings to lead their team to a win.
As the Hokies continue to ride their hot streak up the national standings, one must wonder how they will fare against rival No. 11 Virginia next weekend.