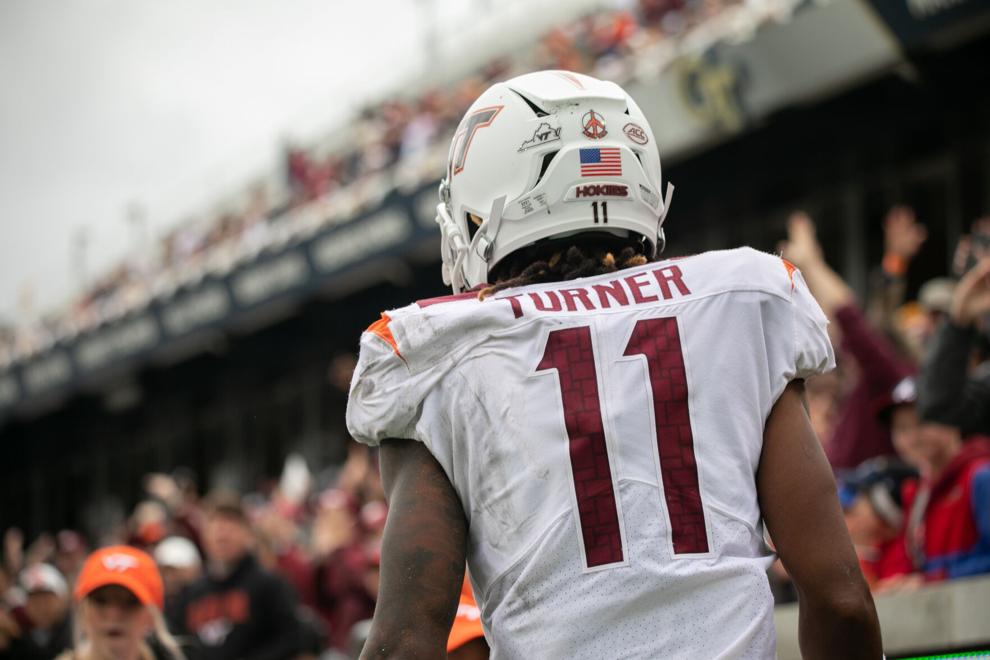 Virginia Tech football players have begun to make announcements via Twitter regarding their plans for next football season. Backup quarterback Knox Kadum and receiver Tayvion Robinson have entered their names in the transfer portal, and receivers Tré Turner and Changa Hodge, tight end James Mitchell, defensive lineman Jordan Williams and defensive end Amaré Barno have all entered their names in the 2022 NFL Draft. Turner, Williams and Barno have opted out of Virginia Tech's bowl game on Dec. 29, but Hodge will play.
Kadum played in four games this season, coming in for Braxton Burmeister when he got banged up. He recorded 151 total passing yards on the season and threw one interception, finishing with a completion percentage of 50% from 24 passing attempts throughout the four games. Kadum played the most in the Hokies' loss to Boston College in November. He passed for 73 yards on 16 attempts, but was sacked once. Kadum flipped his commitment from James Madison to Virginia Tech in February 2019; It will be interesting to see where he ends up this time.
Robinson was a key player for the Hokies throughout his time at Virginia Tech. He averaged 518 receiving yards over three seasons and was Tech's primary punt receiver during that time. Robinson's longest reception this season of 61 yards came against Virginia, however, his career-longest is 71 yards against Pittsburgh in November 2019. He has caught nine total touchdowns, including five this season.
Turner has been through it all with the Hokies, and his positivity is much appreciated by Hokie fans. This season, Turner broke the 600-yard mark for the first time in his four years at Tech and has totaled 675 receiving yards this season from 40 touches. His longest career catch was against Virginia on Nov. 27 when he caught a 69-yarder in the endzone for a touchdown. Turner has rightfully earned his nickname "Big Play Tré," as he has scored 18 total touchdowns for the Hokies, including his famous one-handed touchdown catch against Virginia in November 2018. He will certainly be missed in Virginia Tech's bowl game and in seasons to come.
Mitchell unfortunately missed most of the 2021 season due to a knee injury suffered against Middle Tennessee State on Sept. 11. In 2020, Mitchell recorded 435 yards and led the team in touchdown receptions with four. He has caught 12 total touchdowns in his three year career.
Williams only spent one year at Virginia Tech after transferring in for the 2021 season. He recorded 33 tackles in 10 games, finishing the season with four tackles-for-losses and 2.5 sacks. Williams believed that transferring to Virginia Tech was the right move for his future success in the NFL, according to The Athletic. The time has almost come to see if he can be successful in the NFL.
Barno has contributed 35 total tackles this season and 43 last season. He finished his career at Tech with 21.5 tackles-for-losses, 10 sacks, 13 quarterback hurries and three forced fumbles.