Where to even start with this game?
In a game that essentially had every possible storyline thrown in last-minute to raise the levels of drama to near astronomical levels, the Hokies (5-2, 2–2 ACC) took down the North Carolina Tar Heels (3–4, 2–2 ACC) 43–41 in a matchup that may just go down as one of the wildest games in Virginia Tech history.
"If it would have gone the other way in a nip and tuck game, I still would have been up here talking about how proud I am of our guys and our ability to battle," said head coach Justin Fuente after the game.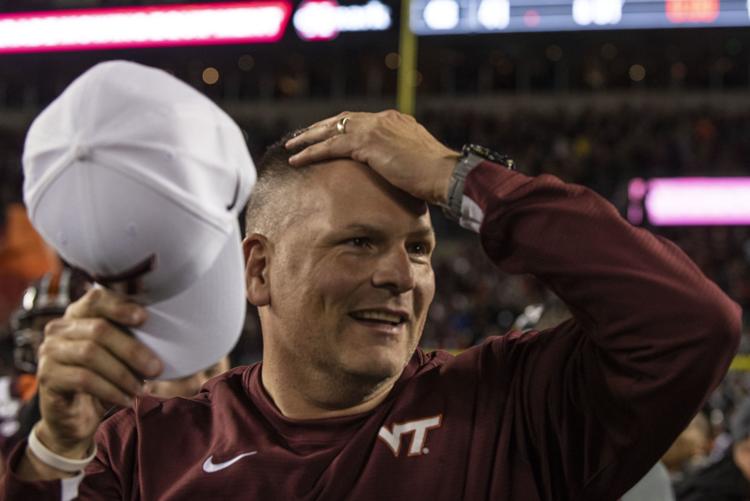 The first half was an eventful one as the Tar Heels opened up the scoring on their first drive. The 75-yard drive ended with a 47-yard touchdown from freshman quarterback Sam Howell to Dazz Newsome, a name Tech fans would be hearing often throughout the half.
UNC was aggressive in the passing game, airing out deep ball after deep ball in the opening drive of the game. While Tech's coverage initially struggled to maintain it, they eventually locked down. Caleb Farley was particularly impressive in coverage, defending a career-high four passes in the first half; he eventually left with an undisclosed injury that would take him out for the rest of the game.
Tech's opening drive wasn't nearly as successful as quarterback Hendon Hooker fumbled a snap in shotgun formation that was scooped up by the Tar Heels. With a short field, UNC was able to make it 10–0 after a 26-yard field goal by Noah Ruggles.
Tech eventually did respond to the scores two drives later with a 55-yard deep ball from Hooker to Tré Turner. Turner found himself wide-open on a wheel-route, and Hooker put it exactly where it needed to be to make it a 10–7 UNC lead with two seconds left in the first quarter.
UNC responded with a long drive of its own that ended with another Newsome touchdown reception to put UNC back up 17–7. Newsome would finish with nine catches for 112 yards and two touchdowns. It was Newsome's first career two-touchdown game.
Tech followed that with a long seven-play drive that was a deft balance of run and pass plays. The drive lasted 3:26 and ended with a 2-yard touchdown run by Deshawn McClease. The Hokies got put in that position after Hooker connected on a tight-window throw to James Mitchell, who made an impressive leaping grab that gave Tech the chance for an easy score that made it just a 17–14 UNC lead with four minutes left in the half.
Tech's next drive was equally as effective as Hooker got them down to the 11-yard line before suffering a leg injury after a read-option run. Former starter Ryan Willis had to come in for the injured Hooker and ended up throwing a beautiful fade to Damon Hazelton that put the Hokies up 21–17 with 19 seconds left before halftime. Hooker would end up not returning to the game, and this would lead to the story of how redshirt freshman Quincy Patterson, a player fans have been clamoring for since Willis' struggles at the start of the season, finally got his shot.
After two uninspiring drives to start the half, one of which Willis got called for an intentional grounding that took the team out of field goal range and a UNC score that put them up 24–24 late in the third quarter, coach Fuente decided to ride with Patterson for the rest of the game.
And what a ride it was.
On Patterson's first drive, Tech turned the ball over for the second time after Dalton Keene fumbled a run up the middle that gave UNC great field position at its own 43. It wouldn't get farther than midfield after Tech's defense made a crucial stop. UNC faked the punt to extend the drive, but Reggie Floyd, who was suspended for the first half, made a huge tackle that prevented the Tar Heels from getting passed midfield.
His next drive was a bit more successful as he completed his first pass of the season to Hazelton for a 14-yard gain. The Hokies ended up settling for a 23-yard Brian Johnson field goal that tied the game up 24 apiece with 9:29 left in the game.
With it all tied up and just under 5:30 left to play, UNC head coach Mack Brown dialed up a wild flea-flicker that left wide receiver Antoine Green wide open for a 68-yard touchdown. UNC's score made it a 31–24 game with 5:11 left to play.
Patterson followed that up with some magic of his own as he broke through for a 53-yard game-tying touchdown off a designed run play. It was Patterson's first career touchdown. The score tied the game back up 31–31 with 4:31 left to play.
After that, neither team was able to move the ball much, and both seemed content with taking the game to overtime.
The first overtime period ended with both teams connecting on field goals, with Johnson connecting on one from 38 yards out and Ruggles hitting his from 29.
The second overtime was where things really became chaotic on the field.
On third-and-goal from the 8, Howell was able to find wide receiver Beau Corrales for his fifth touchdown pass of the game. It was an impressive throw from the freshman, who threw to a tightly-covered Corrales.
Tech would have to score a touchdown to keep the game alive, and on a fourth-and-2 play that would decide the game, they did just that. Patterson aired out a deep ball toward the left sideline to Hazelton for an 18-yard score that kept the Hokies alive for another session of overtime football. It was Patterson's best throw of the evening, which sent Lane Stadium into a frenzy. It would end up being the last touchdown of the game.
"When they called the play, I knew it was a touchdown at that point. It's something we practice all the time," Patterson said about the play call.
The third overtime only amplified the nail-biting intensity of the game as Johnson couldn't connect on a 41-yard field goal that gave UNC a chance to win it on the next drive. UNC was able to maintain good field position and avoid any costly errors on offense, yet Ruggles couldn't connect, missing wide of the posts and keeping the game going.
Ruggles' struggles didn't end there. In fact they only got worse. His next try in the fourth overtime was blocked by Jermaine Waller. Tech was able to give Johnson another chance to win the game after the block with a 42-yard field goal try. Johnson followed Ruggles' pattern and missed his attempt, resulting in an absurd fifth overtime.
This is where things get a little tricky.
This past offseason, the NCAA restructured its overtime rules so that after four overtime periods the two teams have to rotate two-point conversion attempts until a winner is decided.
The fifth overtime resulted in no points for either side. Patterson's fade to Hazelton was incomplete, and the Tar Heels ran a pitch play that was sniffed out by Khalil Ladler.
The sixth overtime is where the game was decided. Howell was taken down short of the end zone on his attempt, but Patterson was able to reach it off a designed run play up the middle.
After a painstaking six overtimes, it was the freshman quarterback who was able to stick it in and give the Hokies their fourth straight victory over the Tar Heels in as many seasons.
A game like this will be remembered by the Hokie faithful as perhaps one of the most riveting performances of football Lane Stadium has ever seen.
This begs the question, where were you when Virginia Tech beat North Carolina?