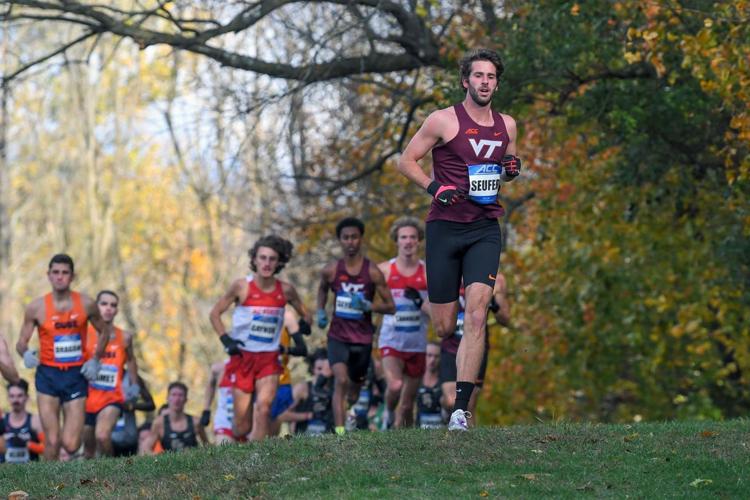 Virginia Tech's cross country teams had the privilege of racing on their familiar home course, the Buford Meredith Cross Country Course, for the ACC Championships on Nov. 1.
The highlight of the meet for Tech was redshirt senior Peter Seufer's impressive second-consecutive first-place finish in the meet. Unlike 2018, it was not much of a battle down the stretch for Seufer this year. He finished the 8K course in 23:42 and crossed the line 39 seconds before the second-place finisher from Notre Dame. With the win, Seufer became the second runner in program history to take two individual cross country conference titles.
"He's really impressive," said Tech distance coach Eric Johannigmeier to HokieSports. "He's a lot of fun to work with. When he's on, he's tough to beat, and he looked great today. I'm really excited for what he's going to do in the postseason."
The men's team had other big contributors, though, and tied for third place with Virginia with 100 points. Syracuse and Notre Dame took first and second.
Diego Zarate, Fitsum Seyoum, Antonio Lopez Segura and Jack Joyce finished up the scoring for the Hokies behind Seufer, taking seventh, 11th, 30th and 51st place. Johannigmeier loved the effort from all of his guys.
Sara Freix was the breakout Hokie on the women's side. The team finished in fourth place with 146 points behind N.C. State, Florida State and Notre Dame.
Freix finished 11 seconds behind the first-place runner in the 6K race with a time of 20:48. Her performance earned her All-ACC honors for the second year in a row. Freix became the fourth two-time All-ACC honoree in program history.
Twenty-five seconds behind Freix came Kyra Lopez in 15th place. Sarah Edwards crossed next for the Hokies in 27th place followed by Ellie Brush and Grace Boone in 49th and 58th.
"Can't question the heart out there," Johannigmeier said about his team. "Where some girls didn't race as well, other girls picked it up."
The Hokies will race again at home Friday, Nov. 8 for the annual Hokie Open. The men will race a 6K, and the women a 4K. Tech will then head to the NCAA Southeast Regional meet in Charlottesville, Virginia, on Nov. 15 to begin the postseason.