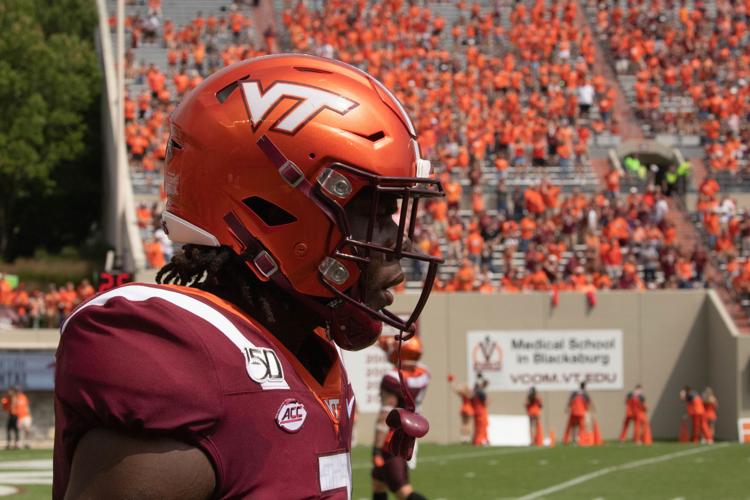 The Virginia Tech football team announced on Twitter that starting safety Devon Hunter "has been suspended indefinitely from all football activities effective immediately for not upholding the high standards we have for our student-athletes."
Andy Bitter, who covers Virginia Tech football for the Athletic, reported Monday afternoon that Hunter was arrested Sunday and charged with "strangling another causing wounding or injury and simple assault on a family member."
The felony charge leads to an automatic suspension until the case is resolved, which is Virginia Tech athletics policy.
Head coach Justin Fuente said on Monday morning that he will have no further comment on the matter.
Fuente mentioned redshirt freshman J.R. Walker, redshirt senior Tyree Rodgers and freshman Keonta Jenkins as potential replacements for Hunter at the safety position.
The news serves as yet another blow to the Hokies, who were disappointed on Sept. 12 after the Commonwealth Cup was postponed due to increasing COVID-19 concerns in the Blacksburg area.
"[I] could see the disappointment in our players and our program when the Virginia game was postponed," Fuente said Monday. "I know our fans are disappointed."
The loss of Hunter could loom large for the Hokies' secondary, who already had cornerback Caleb Farley opt out in July due to the coronavirus pandemic. Hunter played in all 13 games in 2019, recording two starts and 16 total tackles, and was projected to be a breakout player in 2020.
As of now, Virginia Tech is scheduled to start its season at N.C. State on Sept. 26 at 8 p.m. on the ACC Network, but it is too early to be certain about that contest being played.