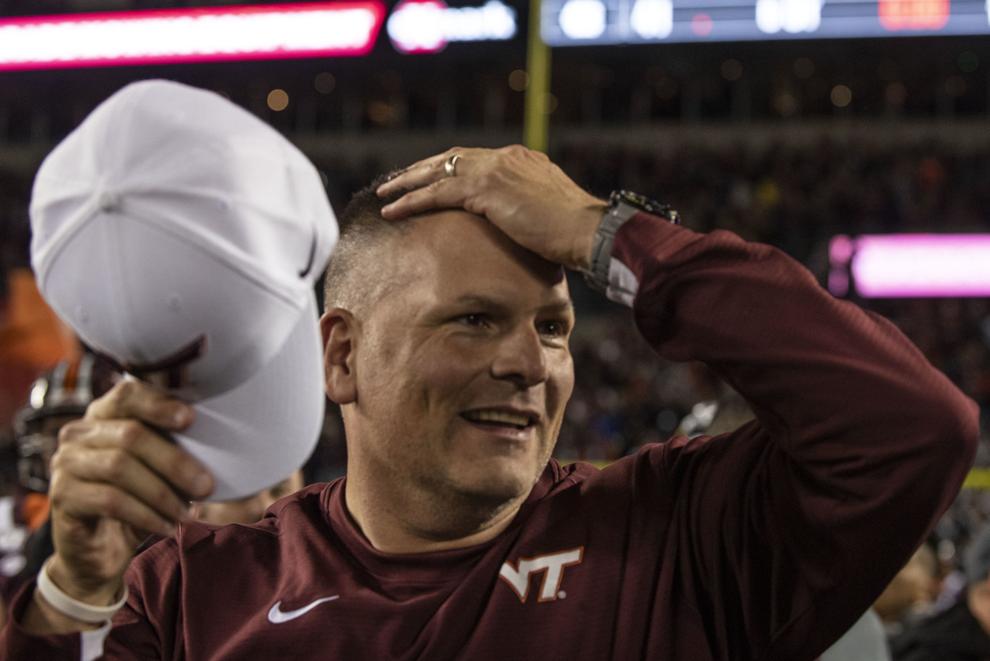 At last, it is time to start jumping. Lane is expected to have full capacity for home games this year and students are excited to get back to life as normal.
Virginia Tech Football will play in a packed house for the first time in almost two years, but that is only one of the many storylines that are at play in what should be one of the most exciting games in the recent history of Lane Stadium.
Of course, this all compounded with the overhanging issue of COVID-19, which has dampened the sports world for almost two years. Starting off the first in-person experiences with a win could make Sept. 3 an extremely memorable night in Virginia Tech history. There are seniors who have been stripped of a full season of football games, along with sophomores who have spent a year at Virginia Tech without ever experiencing "Enter Sandman."
The first major storyline is the concept of rematch. The Hokies will be taking on the preseason 10th ranked team in the country. The Hokies and Tar Heels' last few matchups have been box office material, as each matchup has been filled with exciting plays and last minute finishes. In 2018, Virginia Tech edged UNC on Ryan Willis' touchdown pass with 19 seconds left to win 22–19. In 2019, UNC lost to the Hokies after six overtimes in a freezing cold Lane Stadium.
Last year's matchup with UNC became a 56–45 shootout that ultimately resulted in a loss. UNC racked up a staggering 656 yards of offense in a game that was plagued with injuries and COVID-19 protocols. This year, North Carolina is led by preseason second team All-American quarterback Sam Howell. Howell threw for 257 yards and three touchdowns in 2020 against Virginia Tech's defense, so an emphasis on slowing him down will be important. This rematch will be one in which UNC is favored, but the fans in Lane would likely beg to differ.
Outside of Clemson being extremely dominant, the ACC is up for grabs this year for everyone else. UNC appears to be the favorite to win the Coastal division, making the Friday night matchup even more appealing.
The next interesting storyline surrounding the team is the quarterback position. Braxton Burmeister's first year at Virginia Tech was unique after transferring from the University of Oregon. Burmeister started the season as what many considered to be the third string quarterback, but after injuries and some coaching decisions, he was brought into the role of starter. In fact, last year's game against UNC featured Burmeister starting, but after struggling, he was replaced by Hendon Hooker. Every team needs a leader, and that is what the Hokies are looking for in the now more experienced Burmeister.
"I think everyone is confident in his ability to perform and make plays," said Virginia Tech wide receiver Kaleb Smith, who is looking forward to Burmeister at the helm. "He has definitely taken his leadership to the next level (by) making this his offense and making sure we are all on the same page."
It will be interesting to see how the team rallies around one quarterback and leader as opposed to a multitude of quarterbacks and potential leaders.
Smith has high expectations for this season.
"I feel the best I've had since I've been here about my production and contribution to the offense with the ball in my hands,'' Smith said. "Hopefully (I'll be) getting an opportunity to wear (Frank) Beamer's (number) 25 jersey this year."
The wide receiving group at Virginia Tech is loaded this year, from Tayvion Robinson to Tré Turner to star tight end James Mitchell. It will be exciting to see how the talent is displayed on Friday night.
The final interesting storyline is in regards to head coach Justin Fuente, who, according to 10News in Virginia, signed a contract extension last December that was reported to be around $4 million annually through 2024. Fuente's career at Virginia Tech has been under great criticism from fans and media alike.
Taking over the Virginia Tech football program after Frank Beamer was a seemingly impossible task — they were big shoes to fill. Fuente has done well at Virginia Tech, but the bar is still so high. Fuente has yet to beat a top 10 opponent during his time at Virginia Tech, going 0–7 in the process. He was closely monitored after the past few seasons due to the debacle regarding the starting quarterback position, as there have been four different starting quarterbacks over the past two seasons. Embarrassing losses to Old Dominion and Kentucky in the bowl game did not help his case, not to mention breaking the 15-year streak of defeating the University of Virginia. After winning 19 games in his first two seasons, Fuente has only gone 19–18 over the past three seasons. The program has taken on a new identity since the exit of not only Beamer, but the retirement of the legendary defensive coordinator Bud Foster, which puts even more pressure on Fuente.
This game against UNC serves as a chance for Fuente to prove himself to Virginia Tech fans in a couple of ways: A win would help inspire confidence in Fuente's ability to win big-time games and would also draw momentum into the program for recruiting. A school that cannot beat top 10 schools will continue to struggle finding top recruits. Fuente's been under fire for a while for valid reasons, but a win against UNC could be the start of a new era in Virginia Tech football.
This season looms large with opportunities for good wins, as Virginia Tech will also host Notre Dame in early October and then have two important ACC home games against Syracuse and Pittsburgh.
These storylines should all come together to create one of the most meaningful Virginia Tech football games in the past decade.