On the women's basketball team's Senior Day in Cassell Coliseum and its final game of the regular season, the Virginia Tech Hokies (18-10, 5-10), led by seniors Taylor Emery and Regan Magarity, exorcise the Wake Forest Demon Deacons (10-18, 1-14) 69–57, notching their sixth ACC win and securing the 10th seed in the ACC Tournament.
"It's always a special day when it's Senior Day," said Virginia Tech forward Regan Magarity. "I've been fortunate enough to be part of a team and a group that are very close, and for the seniors it's a very special day. Being able to get a win definitely topped it off."
Despite leading for nearly the entirety of the first quarter, Virginia Tech surrendered the lead after an 8-0 Wake Forest run put the Demon Deacons up 25–22 with 7:04 left in the first half, a lead which they would carry into the half.
After shooting just a little over 37 percent in the opening half, the Hokies came out the locker rooms scorching hot, roaring out to a 10-0 run behind 4-4 shooting from the field and taking a 41–32 lead over Wake Forest, an advantage which they would not relinquish.
The Hokies started 2-3 from beyond the arc, but finished the first half 3-15 from long range, including eight straight misses. However, Virginia Tech would get back on track as it went 6-6 from downtown in the fourth quarter.
"We shot the ball horribly in the first half," said Virginia Tech head coach Kenny Brooks. "I think we were 3-15 from the three. We got good looks. We pretty much got the same looks that we got in the second half. We just knocked down a couple more."
Emery was electric in the opening quarter, dropping nine points, hitting everything from 3-pointers to acrobatic layups as she got the Hokies' offense rolling in a flow early. In spite of battling foul trouble in the second and third quarters, the Tampa Bay, Florida, native closed the game out with 10 points in the final quarter, ending the game with 20 points.
"(She) has rewritten record books in two years," Brooks said. "Not only has she really helped the foundation of our program grow on the court, but she's done it off the court with the things she's been able to accomplish, so I'm really proud of her."
Regan Magarity was absolutely sensational, nearly registering a double-double by halftime with 10 points and nine rebounds in the first half of action. The ACC's top rebounder finished the game with 17 points and 15 rebounds on a remarkable 6-7 shooting from the field.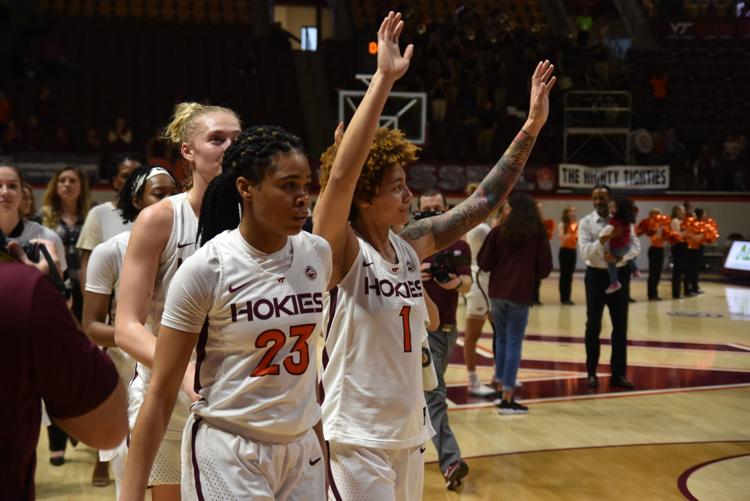 "It's workman-like," Brooks said. "It doesn't even surprise me. If I ever scored 17 points and 15 rebounds, it would be a career night, but for her it's just another day at the office. That's just how important she is, how well she's played and what she's become."
Aisha Sheppard was arguably as pivotal as Emery and Magarity, hitting big shot after big shot as she concluded the game with 12 points to the tune of three 3-pointers. Dara Mabrey got in on the fun as well, putting up 11 points on 80 percent shooting and two threes to go along with three rebounds and three assists.
"There was a lot of emotion today because it's Senior Day, and I just wanted to play my heart out for my seniors," Sheppard said. "They've played their hearts out for us time after time again, so I thought it was our turn to take over a little bit."
Next up for the Hokies is the ACC Tournament in Greensboro, North Carolina. In just three days, Virginia Tech will take on Wake Forest once again for a first round matchup in the tournament on Wednesday, March 6. The 10th seeded Virginia Tech Hokies will look to win their third ACC Tournament title overall and their first since 1998.