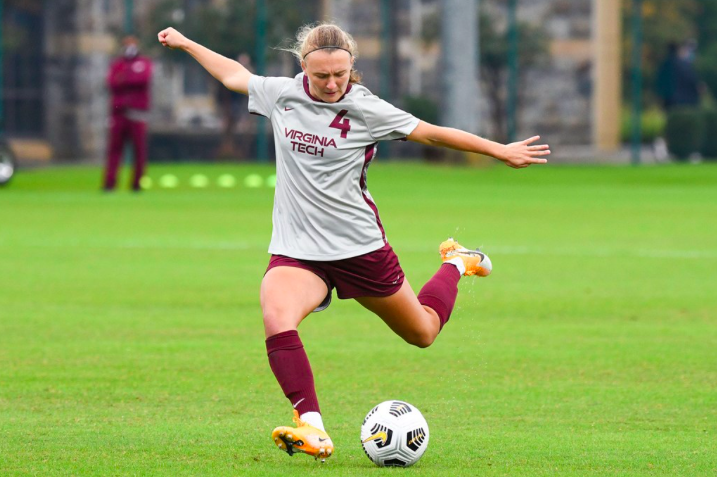 Virginia Tech midfielder Emily Gray is making an impact on the Virginia Tech community in ways besides her soccer skills on the field. Gray is a co-founder and sports media director of UNCUT Blacksburg, a platform launched in September for Virginia Tech athletes to share their stories.
Gray tore her ACL last year and was out for the majority of the soccer season. During this time she read The Players' Tribune, a platform for professional athletes to share first-person stories. The Players' Tribune and UNCUT Chapel Hill inspired her to start UNCUT Blacksburg. She recruited a group of mostly communications students last spring to put it all together.
"It's good for the person telling the story because they can get things off their chest. There's mental health stories, there's battles through adversity and injuries, and there can be positive stories too," Gray said. "I know other people who have gone through my injury and have really struggled and need to know that other people have experienced this."
So far, UNCUT Blacksburg has a series called Road To Back featuring Gray herself, former Hokie basketball player Jonathan Kabongo and lacrosse players Paige Petty and Morgan Berman. Gray said that written content from soccer, lacrosse and football players could be coming in the future.
UNCUT Blacksburg's content is not created just for the pleasure of student athletes though.
"We want the general community, Hokie Nation, to see a side of student athletes that they don't see on a regular basis," Gray said. "They see the stats, they see the name on the back of the jersey, but they don't know who that kid is underneath the helmet."
Gray predicts that the UNCUT media platform will expand to other colleges around the country in time.
You can read UNCUT Blacksburg's content on its website and follow on Twitter and Instagram. If you are an athlete looking to share your story, or join the UNCUT team, contact uncutbburg@gmail.com.