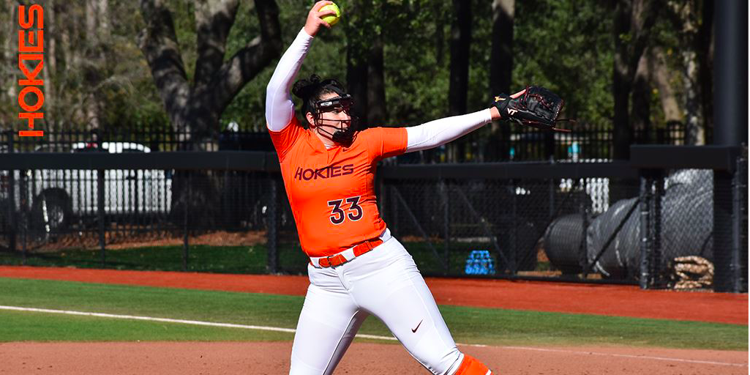 Virginia Tech softball played its first five games of the season in Conway, South Carolina, at the Kickin' Chicken Classic. The Hokies secured wins against Iowa, Coastal Carolina, Campbell and East Carolina. However, in a second game against Iowa, Tech came up short in extra innings to go 4-1 overall in the classic.
It is coach Pete D'Amour's second season with Virginia Tech, and fans can look forward to more success on the softball field. Last season, the team finished 27-11, including an NCAA Regional appearance. Tech also went 20-4 in ACC play in a very tough softball conference.
In the first college softball rankings of the year that released Jan. 28, Virginia Tech received 60 votes, which puts it at the No. 26 spot. Florida State is No. 9, and James Madison sits at No. 20.
On Feb. 7, the Hokies defeated Iowa 9-1 in five innings, and Coastal Carolina 11-2. Freshman Kaylee Hewitt and junior Keely Rochard took mound for Virginia Tech. Hewitt pitched three strikeouts and only allowed three hits against Iowa in her first college game. Against Iowa, junior Al Velazquez recorded three runs and three RBIs, and sophomore Jayme Bailey contributed two runs.
Against Coastal Carolina, sophomore Kelsey Brown registered three hits and two RBIs, and redshirt senior Olivia Lattin hit a home run. Velazquez came up big again with two runs and two RBIs. Rochard tallied 10 strikeouts to only allow the Chanticleers two runs.
Feb. 8 featured a 11-3 six inning win against Campbell, and a 4-2 victory over East Carolina. Hewitt pitched game one, and Rochard game two; both came up with big performances with eight and nine strikeouts. Against Campbell, sophomore Maddi Banks hit her first homer of the season and Brown recorded two runs. Bailey secured the win against East Carolina with a three-run homer.
It didn't come so easy for Tech in its second game of the weekend versus Iowa, though. The game went to eight innings, but the Hokies came short a run and fell 3-4, despite Rochard's career-high 15 strikeouts. A fielding error by Virginia Tech gave Iowa a run in the eighth inning.
Virginia Tech has a quick turnaround from the busy weekend to bounce back and play a tough schedule at the St. Pete Clearwater Elite Invitational in Clearwater, Florida. Over the course of four days, Tech will play four ranked teams: No. 13 Oklahoma State, No. 19 South Carolina, No. 8 Minnesota and No. 14 Northwestern. It also plays Missouri, who is receiving committee votes. The invitational begins Feb. 13. This is Virginia Tech's chance to prove it is an elite team worthy of being nationally ranked.