Virginia Tech held its annual Spring Game on Saturday, April 13. Coming into the event, one of the biggest questions facing the Hokie coaching staff and fans was who would take the reins as quarterback and play to win the job. With a three-way battle between redshirt senior Ryan Willis, redshirt sophomore Hendon Hooker, and redshirt freshman Quincy Patterson, the competition looked to be exciting. Unfortunately, after the game, Hokie fans walked away with more questions than answers. Nevertheless, the game gave the crowd a decent look at where each quarterback is at in terms of their individual development.
Ryan Willis, 14-22, 202 yards, 3 TD:
Willis picked up right where he left off last season and looked liked the starter at quarterback. He made some nice throws on the day including a 28-yard touchdown over the middle to tight end James Mitchell, and a beautiful rhythm 62 yarder to wide receiver Tre Turner. However, it looks as if Willis might still be dealing with some of the same issues in his play as last season.
He still consistently stares down receivers, making it easy on the defense, and he continuously floats the ball downfield. After the game, Willis looks to be a finished product at the position and can be expected to give Virginia Tech roughly the same performance he did last year if he wins the starting job for the fall.
Hendon Hooker, 12-25, 132 yards, Int: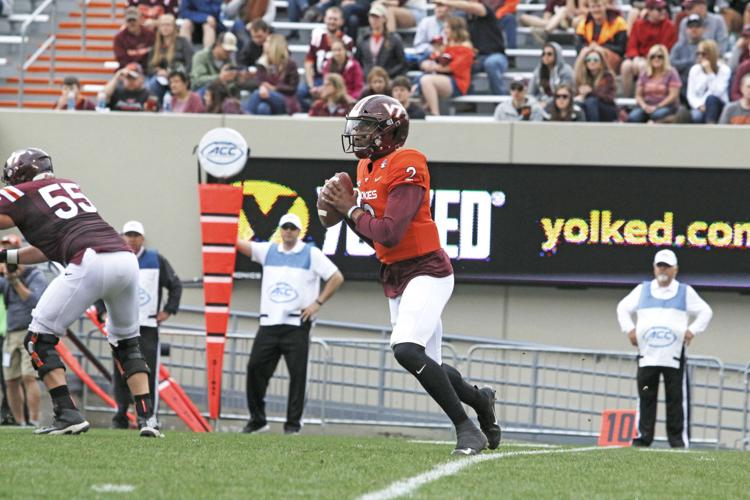 Hooker made the biggest turnaround of the day by far. He struggled early, throwing an interception on a fourth down and bobbling a snap which set the offense back on a drive. Hooker seemed to be plagued by the same lack of focus he has struggled with the past two years. But, then a switch turned on. He settled into a rhythm and started completing throw after throw. This was most noticeable on his 88-yard drive from the 1-yard line. Hooker started hitting receivers with line ball throws and orchestrated some of the best offense Tech fans have seen since Jerod Evans was at the helm two years ago. After getting comfortable, he proved to be a competent quarterback and gave himself a bit of momentum for the job.
Quincy Patterson, 4-13, 42 yards, TD, 15 rushes, 23 yards, rush TD:
Patterson had an inconsistent day, and it seems we still don't know where he stands as a pure passer. He was not able to get much rhythm during the day, being used mostly on designed rollouts with one read and power runs up the middle. On plays built for him to stay in the pocket, Patterson was almost perfect, highlighted by a tremendous back shoulder throw to Damon Hazelton in the end zone. He was good in the running game, but slipped on the wet grass twice. Coaches still need to see more of Patterson in the actual offense before judgement can be made. Currently, he seems to be the biggest boom or bust candidate of the group.
Fuente gave no real indication on who will get the nod week one against Boston College on Aug. 31, and with a lot of camp and practice to go, it looks as if Saturday's scrimmage was only an entertaining glimpse of the Hokie quarterback room. Only one thing is for sure, the final decision will be paramount in determining Virginia Tech's success this upcoming season.