The letters of intent are officially signed, the pens are down and Justin Fuente's second recruiting class is set. Ranked No. 22 by ESPN, Fuente's class brings in talent from as far as Florida and Illinois, with nine becoming early enrollees this spring semester. Out of the 26 recruits, just six are from Virginia. With the annual Spring Game quickly approaching and excitement for next season mounting, it's time to break down who will be the next generation of Hokie football.
Start Jumping!!! #ExitLight18 pic.twitter.com/tN9poDrQal

— Justin Fuente (@CoachFuente) January 31, 2018
Dax Hollifield (ILB)
Hollifield, who is 6-foot-2 and 236 pounds, was the No. 5 inside linebacker and No. 6 overall player from the state of North Carolina according to 247Sports. He racked up 612 tackles and 139 tackles for loss in his illustrious high school career.
With Andrew Motuapuaka and Tremaine Edmunds no longer suiting up for the Hokies, Hollifield will have an immediate chance to play on defense, despite not signing until February.
"It's always felt like home..." @ChiefDax_25 on why he signed with Virginia Tech#ExitLight18 🦃 pic.twitter.com/IYju3SeZwh

— HokiesFB 🦃 (@HokiesFB) February 7, 2018
Tre Turner (WR)
The consensus four-star recruit was the fifth-best player out of North Carolina and No. 28 wide receiver in his class, and at least initially had interest in also playing basketball. He was a two-sport star in high school, averaging nearly 15 points and six rebounds per game. Turner didn't start playing football immediately, and even when he did, it was on defense at first.
At 6-foot-4, Turner gives the Hokies another option with length to place outside, which could allow Sean Savoy to move to his more natural slot position. However, his play time out of the gate could be largely contingent upon whether he can put weight on his 185-pound frame.
Quincy Patterson (ATH)
Although ESPN lists him as an athlete, he will wind up playing quarterback at Virginia Tech. Listed at 6-foot-4 and 236 pounds, the dual threat QB was a consensus four-star recruit from Solorio High School in Chicago. Additionally, he starred in the Elite 11 camp for top passers graduating from high school, joining Tyrod Taylor as the only ever Tech representatives.
While he may lose the battle initially, Patterson is considered the program's quarterback of the future. Based on the numbers game and Tech's recent history, however, he may redshirt as a freshman, much like Josh Jackson.
Jeremy Webb (CB)
Webb, listed at 6-foot-3 and 195 pounds, is a four-star junior college transfer. Prior to committing to Tech, he was a standout cornerback at ASA College in Brooklyn, New York. Much like Turner and many other star athletes, Webb was a two-sport athlete in high school, playing football and basketball at Stevenson High in Lincolnshire, Illinois.
Given his size and the program's attrition at cornerback, with Greg Stroman and Brandon Facyson graduating, Webb should have every opportunity to claim a starting role this season.
Chamarri Conner (S)
At 6-foot, 193 pounds from Jacksonville, Florida, Chamarri Conner joins the Hokie secondary as a force to be reckoned with. During his senior year at Trinity Christian Academy, Conner recorded 107 tackles, with 58 being solo, one forced fumble and one fumble recovery, and helped lead the Conquerors to a 9–4 record. ESPN ranks him as the No. 17 overall safety, and No. 50 overall player in the state of Florida. Conner is speedy, hard-hitting, can defend both the run and pass, and has great awareness for the football. Despite offers from other big-name schools, the four-star recruit chose Virginia Tech back in November of 2016.
The Future‼️wassup #hokienation🦃 pic.twitter.com/nY6C3tFKzW

— Chamarri Conner (@chamarriconner9) December 30, 2017
Alan Tisdale (OLB)
The Hokies add another four-star linebacker out of North Carolina in Page High School's Alan Tisdale. Tisdale's versatility will have Bud Foster salivating as he can play multiple linebacker positions. The 6-foot-2, 206-pound North Carolina native is a tackling machine who can cover running backs and tight ends as well. Along with Dax Hollifield and Keshon Artis, Tisdale will help shore up the holes at linebacker left by the departures of Andrew Motuapuaka and Tremaine Edmunds.
James Mitchell (TE)
Big Stone Gap, Virginia, has produced the likes of Thomas and Julius Jones. Add James Mitchell to that list.
The 6-foot-4, 227-pound tight end had a spectacular career at Union High School under head coach Travis Turner, a former Virginia Tech reserve quarterback. The 2017 VHSL 2A Offensive Player of the Year saw time at quarterback, tight end, wide receiver, free safety, outside linebacker and also returned punts and kicks during his tenure as a Union Bear. The four-star recruit was a four-time all-state tight end, racking up 42 catches, 756 receiving yards and nine touchdowns. In his senior season, Mitchell was very versatile, rushing for 1,514 yards and 21 touchdowns, throwing for 225 yards and three scores, and catching four touchdowns off of 348 yards while also scoring four times on special teams.
Rivals.com has Mitchell ranked as the seventh-best player in Virginia and the 14th-best tight end in the United States. Mitchell picked the Hokies over Tennessee, Georgia, Duke and South Carolina.
Armani Chatman (WR)
The first in-state recruit of 2018 for the Hokies is a 6-foot, 180-pound wide receiver with some serious upside. The Virginia Beach native attended Bishop Sullivan Catholic High School, where he played wide receiver and cornerback. During his high school career, he showed off his ability to create big plays with his speed and toughness. His best attributes include creating space, making contested catches and his speed in the open field. He also showed some serious skill as a cornerback, recording two pick sixes last season.
ESPN ranks Chatman as the ninth-best player in the state, and a three-star recruit. He will likely become a slot receiver for the Hokies, but don't count him out as a possibility to play cornerback instead. Chatman is the third addition of a strong recruiting class at wide receiver for the Hokies.
Darryle Simmons (WR)
A 6-foot-2, 200-pound WR from St. Joseph's Prep School in Philadelphia, Pennsylvania, Darryle Simmons is a big receiver who can catch the ball from anywhere on the field. Last season, he caught 34 passes for 526 yards and three touchdowns, helping St. Joseph's win the Class 6A state championship, and is ranked by ESPN as the No. 11 overall player in the state of Pennsylvania. Simmons has a huge catch radius and consistently creates separation to get open, something the Hokies definitely need to help Josh Jackson and the offense. The four-star recruit signed with the Hokies in May of 2017, after getting several offers from other big-name programs.
D.J. Crossen (CB)
After decommitting from North Carolina due, Crossen committed to Virginia Tech in June. At 6-foot-2, Crossen has elite height at the cornerback position, which will allow him to match up favorably against taller receivers as well as tight ends playing out wide. The four-star recruit's length and athleticism allow him to play with great range. Crossen is very versatile and could see time not only at cornerback but safety as well. With the departures of Greg Stroman, Brandon Facyson and Terrell Edmunds, Waller will have the opportunity to gain playing time early on.
Keshon Artis (LB)
Virginia Tech added more depth at the linebacker position by signing the 6-foot, 230-pound Artis. The four-star recruit (247Sports and ESPN) hails from Oscar Smith High School in Chesapeake, Virginia, and joins the list of solid Hampton Roads recruits to join the Hokies. Artis is considered small for his position, but his strengths include run defense, anticipation, physicality and tackling.
Walker Culver (OT)
Virginia Tech snatched the 6-foot-6, 273-pound offensive tackle out of Chattanooga, Tennessee, in December after decommitting from the University of Colorado the month before, according to 247Sports. The three-star offensive tackle will be a crucial next-man-up behind Yosuah Nijman and Tyrell Smith on the offensive line. His high school resume boasts impressive stats, making him the No. 42 offensive tackle in the nation and No. 16 in Tennessee. Culver turned down big offers from Auburn and Ohio State for Virginia Tech, becoming the fourth offensive lineman to sign in the class.
Cam Goode (DT)
An early recruit for the Hokies, Goode committed to Tech back in June of 2017, despite fielding offers from other big programs like Arizona, Georgia Tech, Wisconsin and the like. The three-star defensive tackle was convinced after his visits to Blacksburg, sensing the town's famous "home away from home" feeling, according to The Washington Post. The D.C. native comes to the 'burg from St. John's, where he was an integral player during their 2017 campaign to the Washington Catholic Athletic Conference championship this past fall, according to MaxPreps. The tackle is a welcome addition following the announcement of defensive tackle Tim Settle declaring for the NFL Draft this past winter.
ANOTHER ONE FROM DC ❗

We just got better in the trenches with the addition of @CamBamBiggalo to The #LPD 💼 #ExitLight18 🦃 pic.twitter.com/6rNHUL1geI

— VT Football (@VT_Football) February 7, 2018
DeJuan Ellis (ATH)
The 5-foot-11 dual threat quarterback was officially recruited as an athlete. ESPN rates Ellis as a four-star and the 25th-best athlete in this class and ninth-best player from the state of Maryland. Ellis was originally recruited as a dual-threat quarterback during the summer before his junior season, and committed to Tech in July. Almost a year later, the McDonogh High School athlete had a change of heart, and decided to decommit in May before his senior year. This didn't last long, and just two days later, he recommitted to Tech as an athlete.
Not being pigeon-holed into one position should work to Ellis' advantage as he enters his college career. His talent and overall athleticism should give him the opportunity to thrive all over the field, similar to Greg Stroman's various roles.
Nadir Thompson (ATH)
Thompson, a 5-foot-11 athlete from Bailey, North Carolina, provides the Hokies with a versatile weapon who had experience as a running back, receiver, quarterback and cornerback as well as a punt returner. The Southern Nash High School standout is listed as a four-star athlete according to ESPN as well as the 38th-best athlete in the class.
Thompson had a standout senior year, rushing for 115 yards on just 21 carries as well as catching two passes for 78 yards. He even threw 117 yards through the air, completing five of his 11 passes on the season. Thompson was also a two-time state champion running track in the 200- and 300-meter events. He received offers from the likes of Duke, North Carolina, Virginia and Wake Forest. Thompson's shifty cutting ability allows him to be the kind of player to make something out of nothing, a trait that'll surely be a lot of fun to watch. Wherever Fuente decides to make the best of Thompson's impressive speed and agility, expect some highlight reel-worthy plays to follow.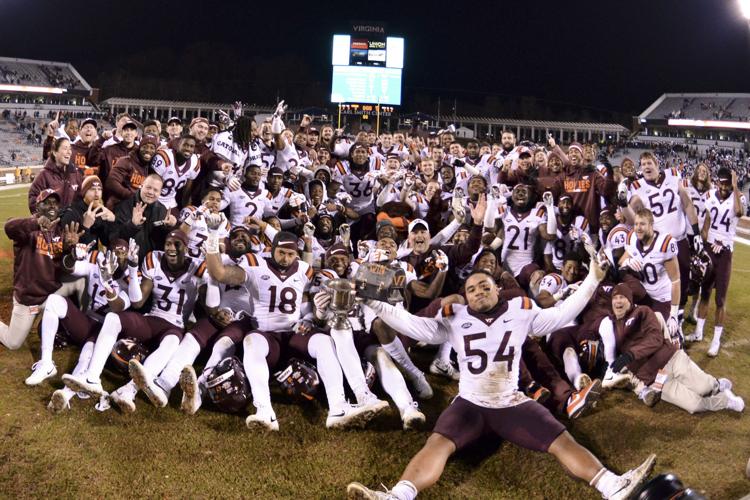 Coleton Beck (RB)
The hometown kid out of Blacksburg High School will not have to go very far to continue his career. It is a short 3.5 miles from Blacksburg High's Bill Brown Stadium to Lane Stadium.
The three-star tailback was impressive out of the backfield for the Bruins. Beck ran for 4,723 rushing yards and accounted for 6,027 total yards while finding the end zone 81 times during his tenure at Blacksburg. During his senior season under head coach Thad Wells, the 6-foot, 185-pound athlete accumulated more than 1,900 yards and had 32 touchdowns on the ground. Beck was a leader on the 2016 Bruins team that won the VHSL 3A football state championship. The speedster was also a track star at Blacksburg, where he was a state champion three times. The Blacksburg native has been clocked in the 40-yard dash at a speedy 4.29. He also has run a 10.41 100-meter dash on the track, where he was named a New Balance Outdoor All-American. Beck was ranked the 10th-best player in Virginia by Rivals.com. Beck picked the Hokies over North Carolina and Pittsburgh.
Jaevon Becton (DE)
The second Virginia Beach native in the recruiting class of 2018 is a 6-foot-4, 248-pound weak-side defensive end from Ocean Lakes High School. Jaevon Becton, a three-star recruit according to 247Sports, was committed to Georgia, but after thinking it over, decided to decommit and now has found a home with the Hokies.
Becton's strength comes in defending the outside run. He has great lateral speed and tackling skills, which allow him to catch up to running backs all over the field. He is a strong all-around athlete, and his ability to never be out of a play no matter where he is on the field can propel him on to a career full of tackles at Virginia Tech.
Let's work🗣💯 #ExitLight18 https://t.co/6yocK8rldo

— L O W L I F E🎈 (@Jaevoon_23) February 7, 2018
Luke Tenuta (OT)
The Crozet, Virginia native is no stranger to college football. The 6-foot-7, 270-pound offensive lineman signee is the son of Jon Tenuta, who is currently the defensive backs coach at Cincinnati and has been on staff at Virginia, Notre Dame, Ohio State and Oklahoma among many other stops throughout a lengthy career. 
The three-star Western Albemarle High product was an all-conference, all-district and all-region selection under head coach Ed Redmond. He was also named to the 3A VHSL all-state team. Tenuta was ranked the 19th-best player in Virginia by Rivals.com. The offensive lineman picked Tech over ECU, North Carolina and West Virginia.
Christian Darrisaw (OT)
The 6-foot-5 offensive tackle from Riverdale Baptist in Upper Marlboro, Maryland, initially committed to Tech in 2016, but spent last semester at Fork Union Military Academy in an effort to get himself fully in shape for ACC play.
Darrisaw will be looked upon as a developmental project going forward and a reserve option in case anything happens to their top options. He shouldn't be expected to compete for a starting job anytime soon.
John Harris (G)
The 6-foot-5 offensive guard will be traveling up the East Coast to attend Virginia Tech, making the five-and-a-half hour journey from Hoschton, Georgia, where he worked his way up to the No. 35 guard in the nation. Harris garnered recognition from several power-five programs including Rutgers, Duke and North Carolina. The three-star was a strong blocking force for his high school program, allowing the offense to move the ball swiftly behind him, creating good holes in the run game and holding off pressure consistently on passing plays.
With only offensive linemen signed in the 2017 class, the addition of Harris is crucial as Fuente builds up his program. His size and strength are a good starting point for the graduating senior, and will work to his advantage as he enters the college stage this fall.
Jermaine Waller (CB)
The Hokies add another prototypical corner in 6-foot-2 Maryland native Jermaine Waller. In his first two years of high school at Archbishop Carroll, Waller played quarterback and threw for over 2,600 yards and 24 touchdowns. After transferring to the Avalon School, Waller was moved to the cornerback position. Waller's quarterback background helps him at cornerback as he plays great off coverage and does a great job reading the quarterback's eyes. With the departures of Greg Stroman, Brandon Facyson and Terrell Edmunds, the three-star recruit will have the opportunity to gain playing time early on.
So much love and passion it won't never end 🧡🦅 #DBU🔒 #GoHokies 🐔🔶 #HokieNation 🦃 pic.twitter.com/TJkmFzmtt8

— J.Waller💰 (@PaperChasing_6) December 19, 2017
Eli Adams (DE)
Eli Adams is a 5-11, 230-pound defensive lineman from Rock Hill, South Carolina. He helped South Pointe High School to a perfect 15–0 record last season. He had 77 total tackles and led his team in tackles for loss, with 28. He had offers from 11 other schools, including Clemson, NC State and South Carolina, but committed to Virginia Tech in June. According to 247Sports, he ranks 18th in the state of South Carolina. He is one of nine early enrollees in 2018.
Adams has a great ability to attack offensive linemen and beat them from any angle. He adds even more talent to a strong recruiting class on the defensive end, nothing new for the Hokies.
Nasir Peoples (CB)
Peoples is a 6-foot, 185-pound cornerback from Warminster, Pennsylvania. He played for Archbishop Wood, and in his four years, won three state championships at the Class 5A level, and was also named the Philadelphia Catholic League Red Division MVP in 2017. Peoples is a solid tackler, who has shown ability to shed blocks and disrupt the running game, as well as defend passes. He also has great speed, as he played running back for Archbishop Wood, where he ran for 30 career touchdowns. The three-star commit signed with Virginia Tech in December of 2017.
Joe Kane (DE)
Joe Kane is a powerful 6-foot-3, 266-pound lineman from Wake Forest, North Carolina. He had 200 tackles in three years of football for Heritage High School, including 31 sacks. He was an integral part of a powerful defense and his team finished 13–2 in 2017. It gave up over 20 points only once in the season.
Kane overpowers opposing linemen, has an aggressive pursuit of the quarterback and doesn't let players escape his grasp. He has a strong inside presence on run defense and stops runners before they can get to the outside. Rivals ranks him as a three-star recruit, 39th in the state of North Carolina. Kane can find his comfort zone in an already powerful front seven at Virginia Tech and become a weapon for the Hokies run defense.
Caleb Steward (RB)
At 5-foot-11, 203 pounds, Caleb Steward will come to Virginia Tech to join an already stacked backfield. From Jacksonville, Florida, Steward is listed as a three-star recruit by ESPN, and is ranked as the No. 189 overall player from Florida. Throughout his career at Ed White High School, he racked up 1,489 total yards and 16 touchdowns. In 2017, he was an All-Gateway Conference and a Florida Times-Union Super 24 team selection. Steward has all the abilities you would want in a running back: speed to outrun defenders, great ball-carrier vision and the ability to break tackles. Steward committed to Virginia Tech in July of 2017, and is currently enrolled as of Jan. 16.
Kaleb Smith (S)
The Bumpass, Virginia native comes to Virginia Tech after spending three years at Patrick Henry High School in Ashland, Virginia, before transferring to Louisa County High School for his senior season. 
Under head coach Mark Fischer, Smith led the Lions to the 4A Football State Championship in 2017. The 6-foot-2, 180-pound defensive back got the all-district nod twice in his career while also being tagged as an all-region selection. He had a big junior season at Patrick Henry where he caught 22 passes for 208 yards on offense. On the defensive side of the ball, Smith had 117 tackles, eight for a loss and three interceptions.
Smith committed to Wake Forest back in June 2017 before decommitting from the Demon Deacons in October. Smith committed to Virginia Tech in November. He was one of Tech's early enrollees in January. The Louisa County Lion is ranked by 247Sports as a three-star wide receiver and the 35th-best player in the commonwealth of Virginia.
Oscar Shadley (LS)
Listed as the best long snapper in the country by 247Sports, Oscar Shadley decided to come to Blacksburg all the way from Naples, Florida, where he was a standout athlete at Golden Gate High School. He also fielded offers from Oregon, Florida International and Marshall. Shadley comes to Virginia Tech holding experience on the defensive line as well, something that Bud Foster will surely love from the special teams standout.
Shadley also received the opportunity to play in the Army All-American Game in January. The 6-foot-2, 230-pound Shadley adds much needed depth at the long snapper position, and he'll be looking to make an immediate contribution for the Hokies come next fall.
✅ #ExitLight18 Proud to have these guys officially join the VT Family

Forget the stars and the rankings... It's time to go to work!!! 🦃👊 pic.twitter.com/P4jmrJbcED

— Justin Fuente (@CoachFuente) February 8, 2018