The 2019 Spring Game ushered in a new season for the Virginia Tech Hokies football team. Fans got a look at many faces, both old and new, all while catching a preview of Hokies football.
Fans saw a collection of underclassmen that they had not seen take the field before.
We caught the first glimpse of Malik Bell, who's typically a tight end but ended up taking reps at running back due to the Hokies being short handed at the position. Bell had a bruising running style, running primarily between the tackles and picking up hard-earned yards. Bell had one particularly great run where he carried several Tech defenders down to the one-yard line.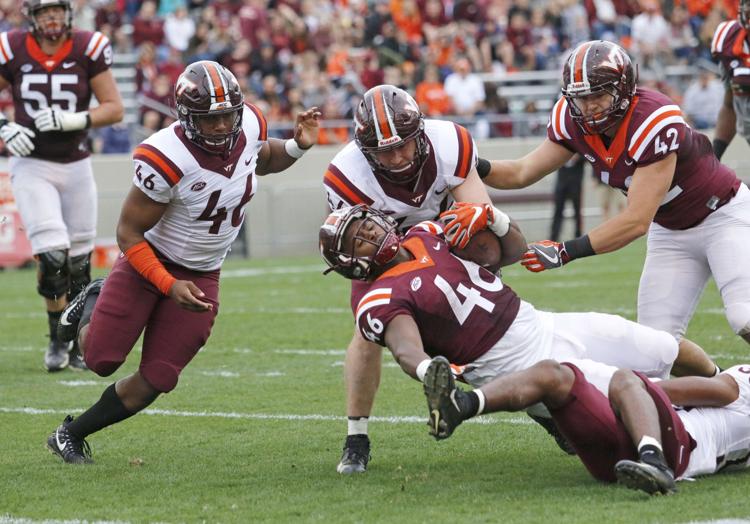 Another impressive showing was by running back Caleb Steward. The redshirt freshman from Jacksonville, Florida broke off several nice runs to help guide the Hokies down the field. Steward's three-yard touchdown run off a spin move was his most notable highlight.
"So far, my spring has been good. I feel like I've gotten better at making guys miss at the line of scrimmage," Steward said after the game.
James Mitchell, a sophomore tight end from Stone Gap, Virginia, made several highlight plays when he took the field. On an early drive, Mitchell caught a 28-yard touchdown pass from Ryan Willis. Several drives later, Mitchell showed his offensive versatility when he took a jet sweep for a nice gain. Mitchell is expected to get significant minutes this season and his showing on Saturday was indicative of what he can bring to the offense.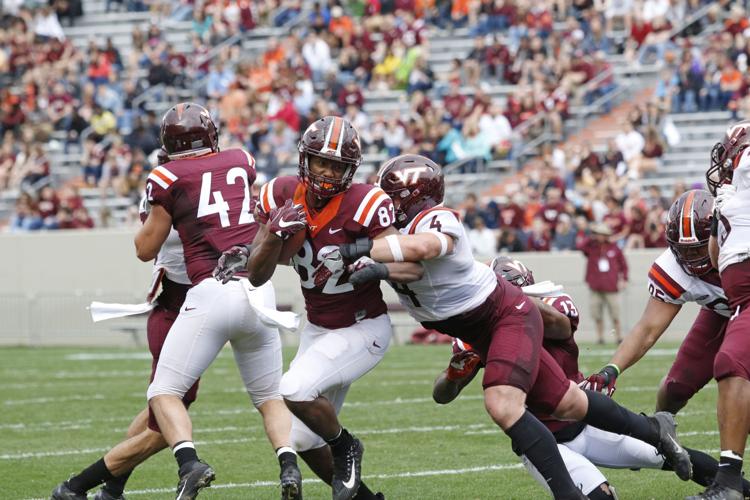 "That kid's going to be special. He has a bright future ahead of him," Willis said.
The special teams unit had some ups and downs throughout the game. Brian Johnson went 1-of-3 and missed several kicks wide right. Sophomore Jordan Stout was perfect however, going 3-of-3 and drilling all three from the 30 to 40-yard range.
"I liked that Jordan stepped up and made them. I still like Brian. I like our whole specialist group from Oscar (Bradburn) to Brian," said head coach Justin Fuente.
Attendees got a look at several familiar players that played well on Saturday evening.
Willis played fairly consistent and lead the Hokies on several successful series. Willis had a 62-yard touchdown to Tre Turner near the end of the spring game that showcased his ability to win from the pocket.
Hokie fans also got to see a new and improved Quincy Patterson, who made several nice throws and broke off several big runs. Patterson did well in improving his chances to be named starter next season.
The biggest defensive standout was Emmanuel Belmar. Belmar was all over the field and even got to Willis and sacked him. Hokies fans will likely see more of Belmar than last season due to a season-ending knee injury that Houshun Gaines suffered last year against Pittsburgh.
A lot of questions will arise from now until September; the offense has a lot of depth, and players at all positions got many reps as the game went along. Though it was just a practice game, the reps were crucial to seeing next year's team will look like and how they progressed from last year's 6–7 record.
"We still have many challenges in front of us. I'm excited to be out there with these guys," said Fuente.