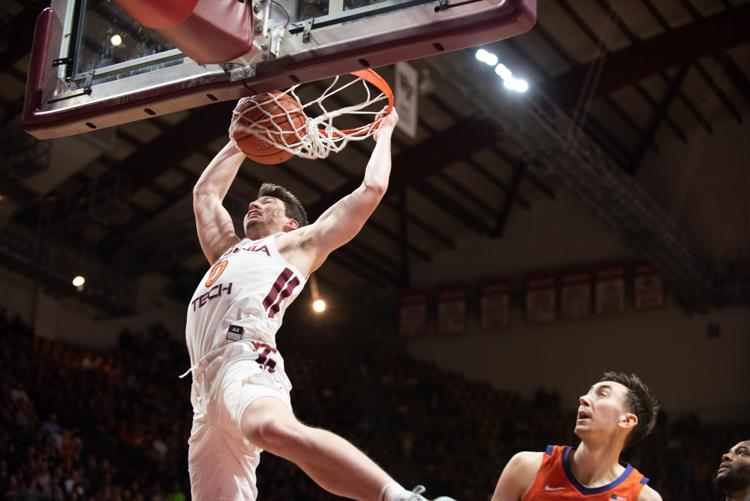 The Hokies took on Clemson, their last opponent in Cassell Coliseum this season on March 4. Forward Branden Johnson was recognized pregame as part of senior night. Virginia Tech won its first game of the season against Clemson on Nov. 5, 67-60.
Virginia Tech was able to repeat its winning preference against the Tigers, and strong shooting led the Hokies to a season sweep of Clemson with a score of 70-58. Tech shot 54% from the field and 46% from behind the arc on the game.
"Kids that can shoot the basketball, and are tough, win," said coach Mike Young.
Johnson got in for the last 1:53 of play in his last home game as a Hokie.
Clemson held an early lead, knocking down a few threes, and a couple of traveling calls on Virginia Tech gave them extra possessions. But, Tech's defense was able to slow the Tigers down, and an Isaiah Wilkins 3-pointer gave the Hokies the lead.
It turned into a back-and-forth stretch of fast paced basketball, until around the six-minute mark, where Tech took the lead and did not look back. The score was 30-25 at halftime.
Despite the obvious height advantage Clemson had on Virginia Tech, the Hokies edged out the Tigers on the glass and won the rebounding battle 20-15.
There was much room for improvement after 20 minutes of play, though. The Hokies committed 12 turnovers in the first half, a number of them bad-pass turnovers where the ball was thrown out of bounds or in the hands of a Clemson player.
Clemson cut down Virginia Tech's five-point lead and found themselves up by one within four minutes in the second half, and it was a back-and-forth basketball game once again. P.J. Horne started to shine with a 3-pointer and layup back-to-back.
"When P.J. Horne has the ability to step out and make multiple three's, that makes us really tricky to guard," Young said.
Hunter Cattoor dunked the ball and hit a 3-pointer back-to-back to put the Hokies up nine, forcing Clemson to call a timeout. The fans in Cassell Coliseum went wild after the sequence.
"He's so early in his development; he's really a good athlete," Young said.
Jalen Cone continued the momentum with a 3-pointer of his own to bring Tech's lead to double-digits.
For a while, it seemed like the Hokies could not miss; nothing was slowing them down and Virginia Tech maintained a healthy lead. With four minutes left in the game, the Hokies were still up 15, and Clemson started to look desperate to get shots up. Virginia Tech cruised through the final minutes of the game and won by 12 points.
Horne and Radford ended the game in double-figures with 17 and 16 points. Horne also contributed five steals.
Virginia Tech has its last regular season game March 7 against Notre Dame in South Bend, Indiana. The ACC Tournament begins on March 10 in Greensboro, North Carolina, and the Hokies look to improve their seeding before then.