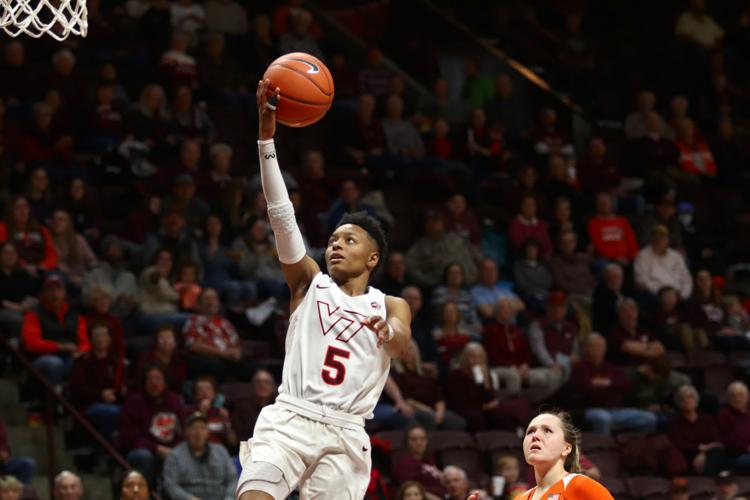 Virginia Tech women's basketball hosted Clemson for another ACC tilt Jan. 26. Clemson swept the Hokies in two matchups last season, once in overtime.
The Hokies won the aggressive game 71-50 and improved to a 5-3 ACC record to tie Florida State, Georgia Tech and North Carolina for third place in the conference. The win also keeps Tech's home record perfect on the season at 10-0.
"I thought our kids came out with a lot of focus. We knew Clemson was going to be scrappy," said head coach Kenny Brooks.
It was a fast-paced first quarter of basketball. The Hokies were quick to run their offense through center Elizabeth Kitley; she had six points in the first quarter. Virginia Tech completed a 10-2 run to finish the quarter for an early nine-point lead after 10 minutes.
For the remainder of the half, Tech played very unselfish basketball. The Hokies recorded nine assists, including six from Taja Cole. Virginia Tech was able to turn defense suffocating into offense scoring nine points off seven Clemson turnovers in the first half. The Hokies headed to the locker room up 36-27.
The Hokies scored an easy five points to open up the second half, and after a steal and layup from Cole, the Tigers found themselves down by double-digits and called a timeout.
After the early five points in the third quarter, there were no buckets for the Hokies for 2:20 until the 4:00 minute mark when they went on a quick 6-0 for a 20 point lead.
Virginia Tech picked up its offense for the final minutes of the third quarter for a promising 22-point lead heading into the final 10 minutes.
In the fourth quarter, the Hokies continued to make smart plays on offense and stayed aggressive on the glass and the defensive side of the ball despite the considerable lead.
Lydia Rivers earned a double-double with 10 points and 15 rebounds, and Cole came close with 15 points and nine assists. Aisha Sheppard scored 12 points and Kitley finished with nine.
"I just try to do whatever my team needs me to do," Cole said. "I read the defense. I knew how they were going to try to play us. I could have got more; I want more."
Virginia Tech will travel to Syracuse later in the week for its matchup on Jan. 30. The Orange sit at 3-4 in the ACC.