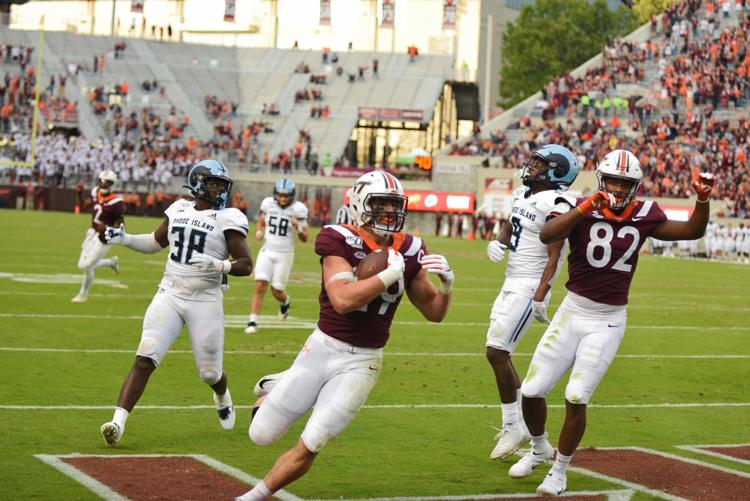 Virginia Tech interrupted its ACC schedule to play FCS school Rhode Island in Lane Stadium on Oct. 12. Coming off a big win against Miami last weekend, the Hokies kept the energy up for a 34–17 defeat of the Rams and advanced to 3–2 on the season.
"I think games like this, when we're playing a FCS opponent, you have to be a little bit more focused just because of the stigma. 'They're not a Power Five'," wide receiver Damon Hazelton said.
It was quarterback Hendon Hooker's first start in Lane Stadium and he was able to expand his passing range compared to what fans have seen from him in previous games. Hooker passed for 261 yards and three touchdowns.
"Today we had a few slip ups but we're going to correct them tomorrow," linebacker Alan Tisdale said regarding the game as a whole.
To start the game, Virginia Tech moved the ball quickly down the field on its first possession for an early three points. On the drive, Keshawn King caught a 40-yard pass from Hooker to mark his longest career catch.
Hazelton scored the first touchdown of the game for the Hokies off a 9-yard sideline pass from Hooker. Dalton Keene, Tavyion Robinson and Deshawn McClease contributed significant rushing plays.
Rhode Island's offense could not accomplish much in the first quarter as it came up with 13 yards of total offense to Tech's 152. They opened strong in the second though, with Isaiah Coulter picking up 51 yards to quickly move the ball to Virginia Tech's 33-yard line. CJ Carrick put the Rams on the scoreboard after a made 41-yard field goal attempt.
The Hokies answered immediately with another touchdown from Hazelton with a 37-yard reception in the end zone. King came up with another big run on the drive to gain 17 yards.
Rhode Island managed to make it to Tech's 3-yard line, but a 15-yard unsportsmanlike conduct penalty set it back and Carrick made another field goal to make the score 17–6 with 3:29 left in the first half.
To start the second half, the Rams found themselves in the same position in the red zone, but were pushed back from penalties. Quarterback Vito Priore was able to find a receiver in the end zone for Rhode Island's first touchdown of the game. A successful two-point conversion cut its deficit to only three.
On the next drive, Virginia Tech moved the ball down the field relatively slow until a 27-yard pass received by James Mitchell set the Hokies up in the red zone. Hooker connected with Keene for another touchdown.
Once the Rams had the ball back, Hokie defense made numerous big stops. However, a pass interference call on Caleb Farley gave Rhode Island a first down and the drive was extended. The defense continued to bring the pressure and Norell Pollard and Jarrod Hewitt were credited with quarterback hurries and Rhode Island settled for a field goal.
The Hokies answered with a touchdown from McClease after he ran it in from the 1-yard line. This extended the lead to two touchdowns and gave Tech a little bit of breathing room early in the fourth quarter.
Rhode Island set itself up at Virginia Tech's 5-yard line after Reggie Floyd was ejected for targeting and the Rams were granted an automatic first down. But, Rhode Island was pushed back 14 yards after a tackle for loss from Chamarri Conner and Priore could not connect with Caleb Warren in the end zone. The Hokies took over on the 19-yard line.
With just over two minutes to play, Brian Johnson kicked another field goal to increase Tech's lead to 17. The drive was backed by big rushing plays from McClease and freshman Tahj Gary, who's gain was lost after a team fumble recovered by Hooker.
ACC play resumes for Virginia Tech as it prepares to take on North Carolina next weekend on Oct. 19 in Blacksburg again. 
"There's an expectation around here: to play at a high level all the time," defensive coordinator Bud Foster said. "We got to continue with this group. Our practice habits need to continue to be at a high level. We expect them to practice like they play."