It's a loss that'll be ingrained in the memories of the Hokie faithful for a long, long time.
After the 39-30 stunner that saw Virginia (9-3, 6-2 ACC) put an end to Virginia Tech's (8-4, 5-3 ACC) streak of 15 consecutive wins against them, head coach Justin Fuente, along with most of the players at the podium, were practically speechless.
"Our kids will remember this one, I think," said defensive coordinator Bud Foster. "I talked to them about a rivalry; it's when two teams win, not just one."
The team's speechless nature is understandable when looking at what was on the line in this game. It wasn't just a rivalry game for the sake of bragging rights, it was also the deciding factor in who would not only get a shot at No. 3 Clemson in the ACC Championship, but also a chance at this year's Orange Bowl in Miami, Florida.
UVA quarterback Bryce Perkins was the star of the show on the first drive, though it was more with his legs than his arm. His 70 yards rushing on the first drive alone helped convert two third downs and eventually led to UVA's first score, a 39-yard RPO, that brought the Wahoos to a 6-0 lead after the missed PAT.
Perkins would help provide the Hokies with their first score as well after he was picked off by safety Chamarri Conner on a third down that saw fellow safety Divine Deablo hit Perkins as he threw. Quarterback Hendon Hooker would drive the Hokies down from their own 44-yard line to the UVA 3-yard line where the team's drive would ultimately stall out. Kicker Brian Johnson's 21-yard field goal would bring the UVA lead down to 6-3 with 3:26 left in the first quarter.
Perkins would respond with yet another rushing score, this time for 67 yards, on a short third down that brought UVA's lead to 13-3 in the first quarter. Perkins would end up causing fits for coach Foster's defense all game, eventually beating Tech as both a passer and a runner; he finished with 311 passing yards and 164 rushing yards with his rushing total being a career high.
The Hokies would be able to add three more with another short Johnson field goal, but they ultimately went into the half down 13-6 with the Wahoos looking like the better team. The Hokies managed just 149 yards of offense and failed to get much of anything going on the ground.
Virginia Tech would respond to a mostly uninspired half of football from the offense with a four-play, 75-yard drive capped off by a 34-yard touchdown run from Hooker in the second half. Hooker went untouched on the RPO and gave Tech a tied ball game, 13-13. 
The touchdown would end up shifting the momentum completely, with UVA punting after a three-and-out headlined by an unnecessary roughness call that backed them up into a third-and-22 situation.
The Hokies responded with another fantastic drive, this one an eight-play, 71-yard drive that ended in a 1-yard run by running back Deshawn McClease to put the Hokies ahead 20-13 for their first lead of the game. The rushing attack was huge, with contributions by McClease, Hooker and freshman Keshawn King.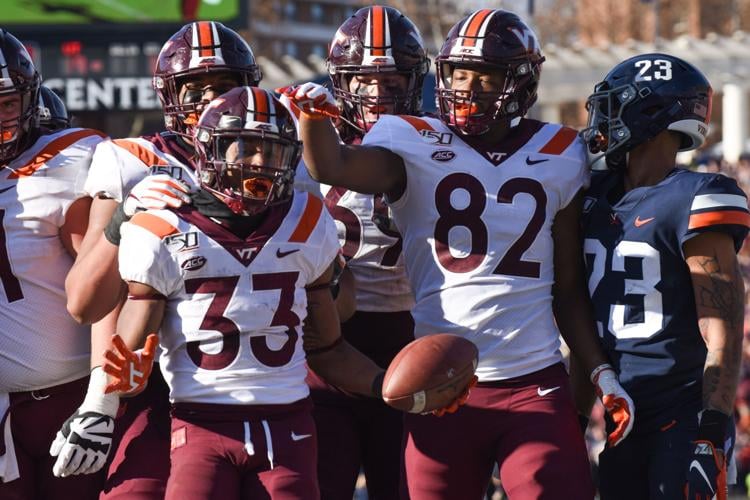 Virginia was able to respond on its next drive with a touchdown from wide receiver Billy Kemp IV for a 25-yard touchdown to even things back up, 20-20. They were able to get there from a deep ball from Perkins to wide receiver Joe Reed on a pass that went for 42 yards early in the drive.
That tie wouldn't last long, as Hooker put the Hokies back in front with a gorgeous 62-yard touchdown to Turner to make it 27-20 after the PAT. Hooker's bomb of a throw was right on the money and sent the Hokie fans into a frenzy with 48 seconds left in the third quarter.
Virginia continued to respond to Tech's offensive success with another game-tying touchdown early in the fourth quarter, this time from running back Wayne Taulapapa.
With the game tied up 27-27 with 13:30 left in the fourth quarter, the Hokies responded with a 47-yard field goal by Johnson, a career long for the kicker, with 10:58 left to play. The Hokies took advantage of good field position at their own 43 after a strong kickoff return by King.
It was then that UVA really took control.
After a 25-yard Brian Delaney field goal and another Hooker interception, Virginia marched down the field on yet another drive with just under five minutes to play and got another Delaney field goal, this time from 48 yards out, to take the lead.
Though Tech still had all three of its timeouts and 1:23 left to match Virginia's field goal, the offense folded under the pressure. Virginia recorded three sacks in three straight plays, one of which was a fumble recovered in the end zone by defensive tackle Eli Hanback to make it a 39-30 score with 1:01 left.
The result stood, and as the game ended, thousands of Virginia fans rushed out onto the field in celebration of one of the team's biggest wins in school history.
The loss will sting for a long time, even more because of what a win would have entailed, but players like Hooker are using this loss as a learning experience.
"I've just got to move on, play the next play and go back to the drawing board," Hooker said.
Virginia Tech will now await the announcement of its bowl game in the coming week as Virginia goes on to play the Clemson Tigers on Dec. 7.