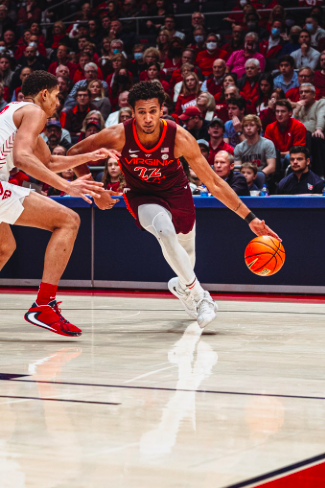 Virginia Tech picked up another loss on the road to Dayton 57–62 on Dec. 12. It was not a good shooting day for the Hokies as they went just 38.2% from field-goal range and 27.3% from behind the arc. No one was able to step up and make consistent baskets down the stretch and the Flyers held onto their lead.
Keve Aluma and Hunter Cattoor both finished with 14 points and Justyn Mutts and Storm Murphy had eight apiece.
To start the game, Virginia Tech looked nothing like it did against Cornell. Neither team was able to hit a basket for the first four minutes. Murphy made the first basket of the game, then Dayton proceeded to go on a 10–0 run.
Both teams were playing very sloppy basketball; Virginia Tech committed six turnovers through the first 10 minutes of play. Thanks to back-to-back 3-pointers, Virginia Tech was able to cut Dayton's lead to four with around four minutes left in the first half, but Dayton proceeded to do the same and held its healthy lead. The score was 22–29 at halftime.
The Hokies shot around 33.3% from the field and around 27.3% from three in the first half.
Virginia Tech could not chip away at Dayton's lead for much of the second half. With 13:35 remaining, the score was 29–47.
Virginia Tech went on a 12–1 run and stepped up its defense to cut Dayton's lead to seven with less than 10 minutes to play. With 5:45 to play, it was a five-point game, and with three minutes to go it was the same; the Hokies just could not seem to get over the hump.
With just over two minutes to go, Dayton hit a big 3-pointer to give itself a bit more of a cushion. In the possession following, Cattoor and Aluma both attempted 3-pointers and missed, keeping the Flyers' lead at eight.
Dayton scored again to go up by 10, and luckily Murphy was able to hit a big three right after to make the score 52–59 with 40 seconds to play.
Virginia Tech started to foul and Dayton made both of its shots. On the return end, Mutts made a layup with a whistle, and he made his foul shot to make it a six-point game with 20 seconds to play. With eight seconds left, Virginia Tech was down five and coach Mike Young called a timeout. Dayton missed its last two free throws, but the Hokies couldn't make a basket at the end, either, and the game ended 57–62.
The Hokies can attempt to redeem themselves in their next game on Dec. 17 against St. Bonaventure. The Bonnies were ranked earlier this season but are currently unranked. They have notable wins against Clemson and Marquette and a respectable loss to No. 15 UConn.