In what felt like a game straight out of Tech's miserable 6–7 season last year, the Hokies simply couldn't get out of their own way on the offensive side of the football, losing 35–28 at Alumni Stadium to ACC opponent Boston College.
After a slow start by both sides on their opening drives, the two opposing offenses got cooking soon after, with Boston College opening up the scoring with a 33-yard touchdown pass from Anthony Brown to Zay Flowers. The Eagles' no-huddle offense was in full effect on the drive as the team marched down the field with a five-play, 67-yard drive in just over a minute.
"We were prepared for [the no-huddle], but early on we panicked a little bit," said defensive coordinator Bud Foster.
The Hokies managed to get lucky after a missed 38-yard field goal, giving them an opportunity to get a long drive of their own with junior Hezekiah Grimsley scoring the first touchdown of the season courtesy of a gorgeous 55-yard bomb from incumbent starting quarterback Ryan Willis.
Willis followed the drive up with another impressive drive to start the second quarter, connecting with freshman wide receiver Tayvion Robinson for a 20-yard touchdown on his first career reception that put Virginia Tech up 14–7. Willis was cooking on the drive, going five-of-six for 77 yards along with the touchdown strike.
Boston College would later respond and dominate for the rest of the half, courtesy of Brown's arm and stud running back A.J. Dillon's power on the ground. Tech handled Dillon as well as it could for most of the half, but he was ultimately too much to handle, and his 17-yard touchdown run off a second-effort after contact would tie the game back up.
Turnovers would then prove costly as Tech turned the ball over three times in its next four drives, which resulted in two Boston College touchdowns. The first was a strip-sack on Willis on a third-down drop back, which resulted in another touchdown pass from Brown, this time to redshirt junior Kobay White. The team finished with five turnovers to Boston College's one.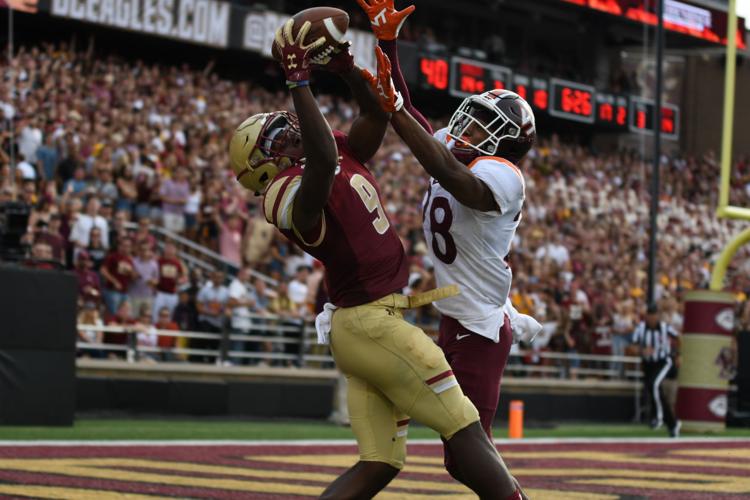 "I need to take care of the ball better," Willis said after the game. "Hats off to Boston College. They're a good team, and we're going to get better next week."
The second turnover was a muffed punt from Grimsley that led to Brown scoring on a 28-yard designed run call that put the Eagles up 28–14.
The third was an interception in the end zone by Willis that left the Hokies empty-handed going into the half down by two scores.
The third quarter was a surprisingly promising one for the Hokies, particularly for the defense, as they held the Eagles offense to zero yards of offense for the entire quarter. Despite a bad interception from Willis that was forced into double coverage, he responded well with a 10-yard touchdown to James Mitchell, his first career touchdown, to make the score 28–21 late in the third quarter.
"We can't be a 30-minute football team. We've got to be a 60-minute football team," coach Foster said of their defensive effort.
The momentum did not carry over into the fourth quarter, however, as another costly Willis interception, his third of the game, killed a chance for Tech to take advantage of good field position.
Though Jermaine Waller eventually forced an interception from a Boston College trick play that saw White throw a deep ball toward the end zone, Tech couldn't get out of its own side of the field and had to punt it back to Boston College with great field position at its own 44-yard line.
The Eagles then scored what would end up being the finishing blow with a 1-yard score from running back David Bailey after he and Dillon pounded the rock for a combined 47 yards off nine carries during the 10-play drive. The score would be 35–21 with just 7:53 left to go.
Tech did score another touchdown to make it 35–28 after Willis led an 18-play drive capped off by a nice diving touchdown reception by redshirt freshman Kaleb Smith, but it was too little, too late as Boston College ran the clock out on the following drive to take down Virginia Tech.
Despite the high rate of turnovers, there were positives to be found. For starters, Smith and fellow true freshman Robinson were very good in their first collegiate game, with both getting their first career touchdowns as well as snagging a few nifty catches.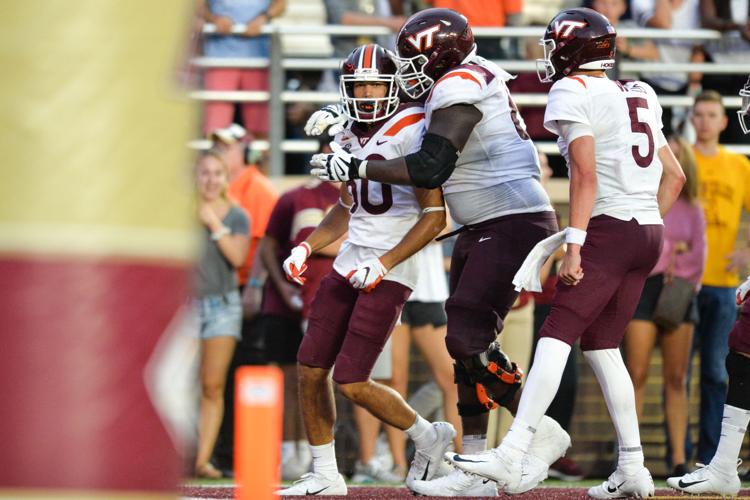 The run defense was also strong, holding Dillon to just 81 yards on the ground and a touchdown.
One of the more concerning factors from the game were the high number of injuries. Tré Turner, Zachariah Hoyt, TyJuan Garbutt and Jovonn Quillen all left the field due to an injury at different points in the game. Damon Hazelton also did not play because of a lingering hamstring injury that's kept him out of practice.
Tech will have its home opener Sept. 7 against Old Dominion at noon. Boston College will look to carry the momentum of this win into its next home game against Richmond on Sept. 7 at 3:30 p.m.