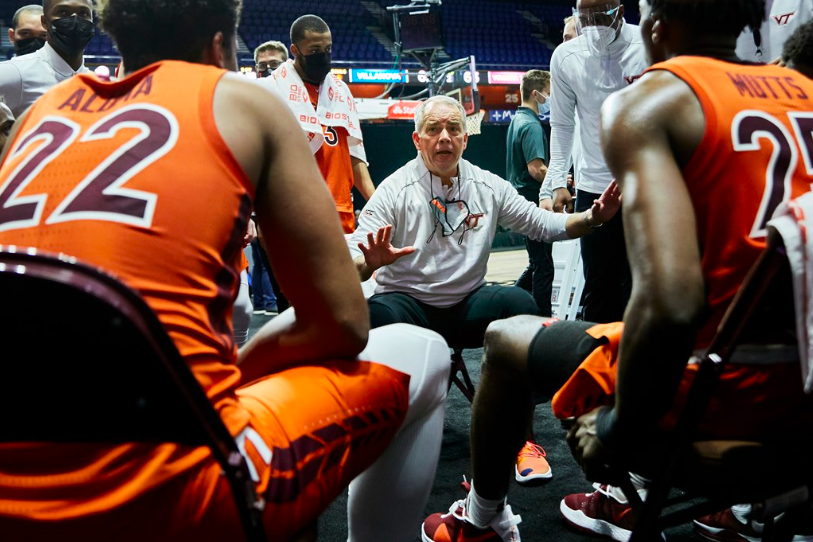 The Virginia Tech men's basketball team opened its stint in the Air Force Reserve Basketball Hall of Fame Tip-Off Classic with an 81-73 overtime victory against No. 3 Villanova.
Tonight marks the second time in his short time as the head of the Hokies that Mike Young has led his team to an early season win against the No. 3 ranked team in the nation. Furthermore, this is Virginia Tech's fourth win in its last six matchups against teams ranked in the top three of the AP poll.
This game was originally a matchup between the Hokies and the Temple Owls, but issues with COVID-19 protocols forced Temple to withdraw from the game. This led to the scheduling of this game being finalized early Friday morning.
"We came here to play guys and get better," Young said. "Whoever it is, let's throw it up, fight, improve, and I think we showed a little bit about ourselves tonight."
Virginia Tech started off well by getting out to a 21-13 lead. This lead would not last long as Villanova went on a 15-4 run to take a 27-25 lead late in the half. The score would be tied 29-29 going into halftime.
The second half started with Villanova continuing to ride its momentum by jumping out to a 52-40 lead by the 8:48 mark. This strong offensive performance by Villanova was spearheaded by guard Collin Gillespie who shot 8-14 from the field, 4-7 from three-point range, and ended the game with a team-leading 25 points.
Virginia Tech stayed resilient and went on a 14-4 run to pull within two points of tying the game. Then, with 10 seconds left in regulation, the Hokies pulled down a rebound off a missed Villanova free throw, drove the length of the court, and took a 64-62 lead on a three-point play by Keve Aluma.
With roughly one second left on the clock, Hokies forward Justyn Mutts fouled Villanova guard Justin Moore on the ensuing inbound play. Moore proceeded to make both of his foul shots and send the game to overtime.
Mutts, almost as if he was rectifying his mistake which tied the game, started the overtime period for Virginia Tech by going on a personal 5-0 run. The Hokies never looked back and ended up outscoring Villanova in overtime 17-9.
Several stand-out performances include Aluma, who once again led the team with his 23 points, as well as Nahiem Alleyne who added 20 points of his own. Tyrece Radford also played well by leading the team with his 13 rebounds.
Virginia Tech has shown in its first big test of the season just how well its team has been able to mesh given its uncertain circumstances.
"Just seeing the parts and where they fit, they showed me quite a bit tonight," Young said. "Certainly a lot of room for improvement, but certainly a good step for us two games in."
The Hokies will play their second game of the preseason tournament on Nov. 29 against South Florida at 8 p.m.