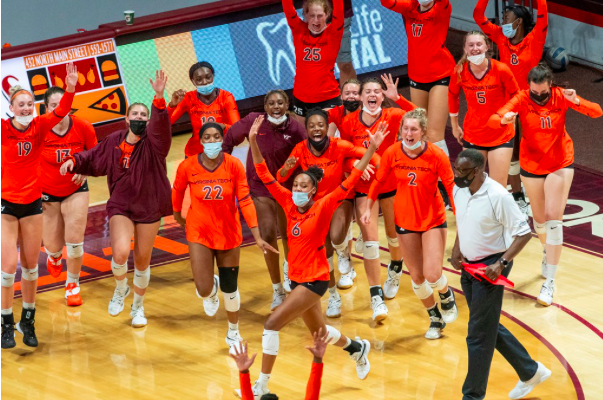 The Virginia Tech volleyball team starts off the season strong as it won all three of its games in the Virginia Tech Invitational this past weekend. The Hokies defeated Lehigh 3–2, swept Toledo 3–0, and beat Elon 3–1.
Aug. 27 vs. Lehigh
In the 2021 season opener, the Hokies had a roller coaster of a game. They took a 2–0 lead, teetering on a sweep, but the team let the third set get away from it, losing 24–26. The fourth set was riddled with continuous errors that kept Lehigh in the game. The Mountain Hawks were looking to pull off the upset in Blacksburg, but the home team held on and avoided a shock defeat, squeaking out of the fifth and final set 15–11. Junior Cera Powell finished the game with a double-double: 10 kills and 12 digs. Graduate student Griere Hughes and freshman Elayna Duprey both led the team in kills with 11. Mara Perry led the team in assists with 21.
Aug. 27 vs. Toledo
The Hokies took care of business against the Rockets. The difference maker for the Hokies in this invitational game was the hitting percentage. Excluding the second set, Virginia Tech's attacking ability was far beyond Toledo's. The team hit .286% in the first set and .276% in the third. Toledo hit under .15% in both of those sets. Virginia Tech also went on runs where it would get four to six points straight in each set. Ultimately, the team played a much more polished game in comparison to its season opener against Lehigh. Powell also had another double-double in this game with 10 kills and 10 digs.
Aug. 28 vs. Elon
Virginia Tech rode the momentum of the last game and took it to Elon in its victory. Just like last game's story, the team's hitting percentage was solid. It hit .469% in the first set, its best among the whole invitational. Powell got her third double-double straight with 13 kills and 10 digs. Powell did not play much in the shortened season last year, but she surely made her presence known this year. Sophomore Brie Postema led the Hokies in assists with 28 out of the team's 53 total assists. Freshman Mary Page led the team in digs with 15.
Next, Virginia Tech will travel down to Jacksonville, Florida, for the UNF Invitational. It will play the Georgia State Panthers (1–2) at 11:00 a.m. and the North Florida Ospreys (3–0) at 7:00 p.m. on Sept. 3.