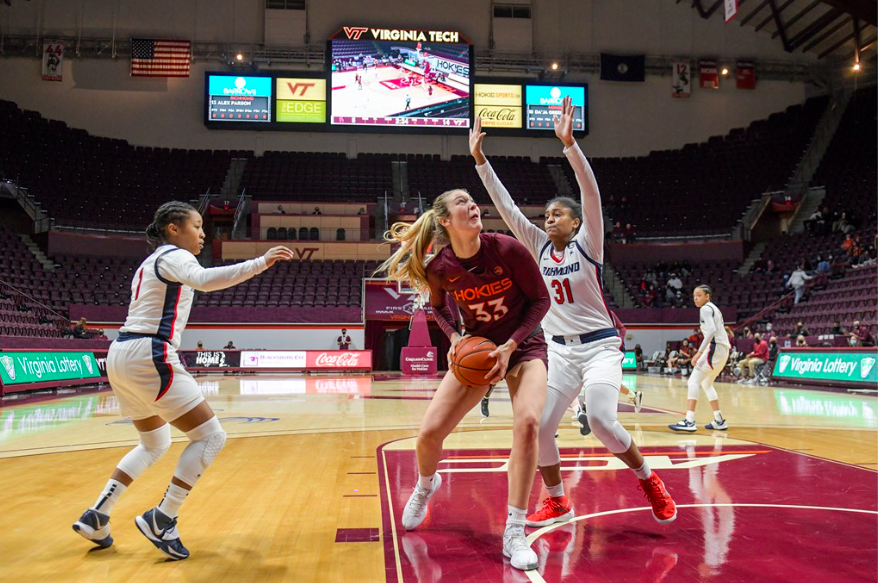 The Hokies' women's basketball team opened the season against the Richmond Spiders at home on Wednesday. Virginia Tech secured the win with a final score of 85-64.
New players stepped up and contributed in huge ways, most notably freshman Georgia Amoore who led the team in scoring with 19 points and sank four 3-pointers for the match. The 5-foot-5 guard performed phenomenally in her first game as a Hokie. Asiah Jones, a transfer from USC, had 17 points, five boards and a block in her opening game.
Veterans who were expected to perform highly brought their A-games as well. Senior Aisha Sheppard scored the first basket of the season and tallied 15 points for the Hokies. Elizabeth Kitley tallied a double-double and had a career-high 17 rebounds. Cayla King also had three 3-pointers to contribute to the scoreboard.
Richmond turned the ball over 16 times which resulted in 18 points for Virginia Tech. The Hokies made a total of 12 triples while the Spiders were only able to make 5 of 25. The Hokies move to 1-0 for the season and are now 7-6 all-time against the Spiders. Virginia Tech will take on the Liberty Flames on Nov. 28 at home for its next match.