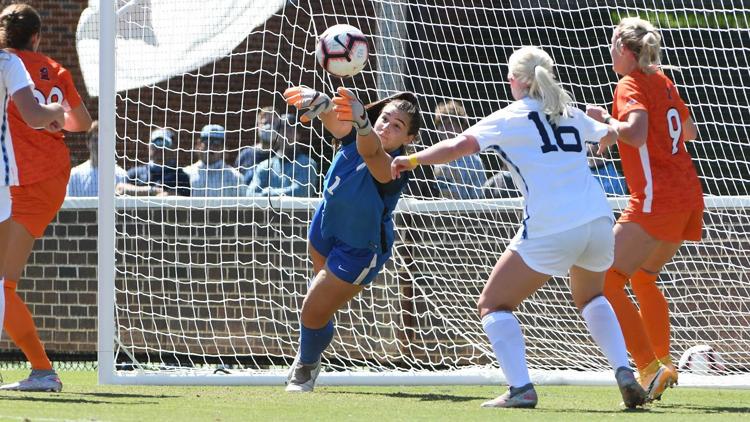 Virginia Tech Women's Soccer suffered its third loss of the season, losing 1-0 to North Carolina at Dorrance Field on Sept. 20. The team entered the game with a 0-2 record after losing to UVA, 1-3, on Sept. 12 and falling short to Clemson, 0-3, on Sept. 17.
In her third start of the season, freshman goalkeeper Alia Skinner saved a season-high nine shots from the Tar Heels. However, it was not enough to stop UNC junior midfielder Brianna Pinto, who chipped Skinner in the 15th minute to score the only goal of the match.
The Tar Heels maintained constant pressure on Tech's defense, outshooting the Hokies 19-3. UNC also held the advantage in corner kicks with 13 compared to Tech's one.
Junior midfielder Emily Gray had the chance to tie the match in the 57th minute with the Hokies' only goal, but was stopped by UNC junior goalkeeper Claudia Dickey who made the diving save to her left to keep the Tar Heels in the lead.
Despite the loss, head coach Chugger Adair is proud of the effort his team put forth against UNC, who is currently ranked third in the ACC.
"They played together and eliminated some of the mistakes that we've made in the past couple of games, so that was good, because we're showing some growth and development," Adair said.
Adair also acknowledged the accomplishments of freshmen defenders Victoria Haugen and Averi Visage, who both claimed their second start for the Hokies.
Although Tech did not come out with a win, the match is still a milestone for junior Emmalee McCarter, who started her 42nd consecutive match, the longest streak of anyone currently on the team.
After three away games, the Hokies will return to Thompson Field to face off against the UVA Cavaliers for their home opener on Friday, Sept. 25.