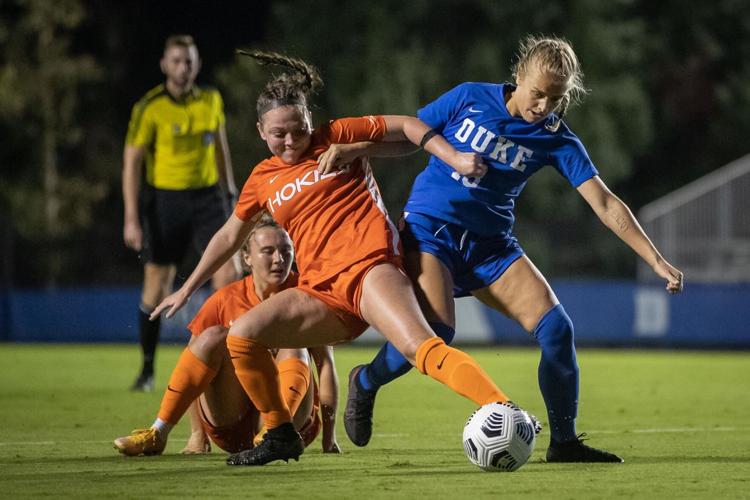 The Virginia Tech women's soccer team lost to the No. 7 Duke Blue Devils on Friday, Oct. 9. The Hokies' defense held strong through the first half, but the offense struggled to move the ball.
Neither team had a shot on goal during the first half, but the Blue Devils came out strong in the second half forcing freshman goalkeeper Alia Skinner to make three saves in the first 10 minutes. The Blue Devils kept pressure on the Hokies throughout the second half with 22 shots and 10 corners.
Duke broke through the defense in the 66th minute when Olivia Migli was fouled in the box giving the Blue Devils the chance to take the lead with a penalty kick. Caitlin Cosme finished the penalty kick to give Duke a 1-0 lead. The goal did not stop the Hokies' effort, though, as Virginia Tech continued to press forward, hoping for an equalizer.
The Hokies had a chance to tie the game in the 80th minute with a shot from Emmalee McCarter, but the shot was wide of the net. The Blue Devils secured their win in the 84th minute after Skinner saved a shot from Emmy Duerr, but Delaney Graham was there to put the ball in the back of the net giving the Blue Devils a 2-0 win.
Skinner had eight saves for the night putting her at 51 saves for the season, the most of any goalkeeper seven matches into the season. Skinner entered the match with an average of 8.60 saves per game, making her the nation's leader in saves per game.
Grace Sklopan also reached a milestone, having played 634 minutes this season making her the only Hokie to play every minute of the 2020 season so far.
Next, the Hokies will take on Miami at Thompson Field on Oct.15 at 7 p.m.