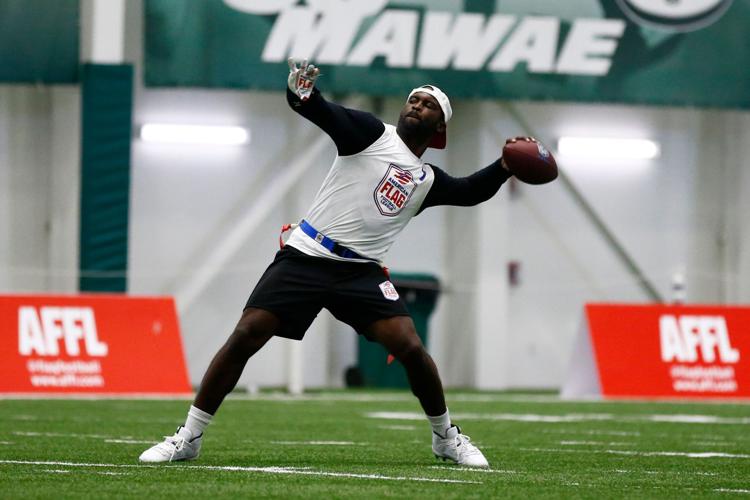 Even after his official retirement from the NFL in 2017, Virginia Tech sports Hall-Of-Famer Michael Vick continues to showcase his talents on the football field. On June 16, the New York Jets practice facility in Florham Park, New Jersey, hosted the American Flag Football League championship tournament. Vick participated with the "pro" team Florida Fury.
Joining him on the Florida Fury was former NBA player Nate Robinson and Heisman Trophy winner Danny Wuerffel along with other NFL veterans and professional flag football players.
"It's been a learning experience for everybody … I'm learning rules and how to take advantage of the defense," Vick said about playing in the AFFL. The playing rules of flag football are different than tackle, and adjustments in playing style must be made if transitioning from tackle to flag.
"I'm used to playing with guys that played at the professional level, the National Football League, and now I'm playing with guys that played professional flag. I never thought I would be doing this, but somehow I found myself here and have really grown to love it," Vick said.
Florida Fury played in the semi-final game against the reigning champions from last year, Fighting Cancer, an amateaur team from New Orleans. The winner of that game advanced to the Ultimate Final to face this years winner of the amateur bracket, Texas Money Team. Fans of Vick showed up to watch him and his team in action.
The game ended up being thrilling for spectators to watch and both teams displayed their football skills, although Vick did not play his usual position of quarterback. Fighting Cancer led Florida Fury 19–13 at halftime, but Florida Fury went on a scoring spurt early in the second half to gain a hefty lead. Fighting Cancer used its speed to move down the field quick and tie the game at 34–34 with less than two minutes to play. After double-overtime, Fighting Cancer came out on top, 41–40, and then went on to win the Ultimate Final for the second year in a row.
On the game Vick went one-for-one passing totaling 18 yards. He passed the ball to Wuerffel on a trick play. Vick also had one reception for 6 yards and a point after touchdown.
Vick's motivation to play in the AFFL is his love of playing the game and to be a role model for kids; his daughter is currently the quarterback of her flag football team.
"There's a lot of kids growing up playing flag football in the beginning, starting out. It's a much safer way to start out playing and I think it compliments everything they're trying to do as far as technique and running the basic skills," Vick said.
Vick believes it's a fun way to play football and not get hit.