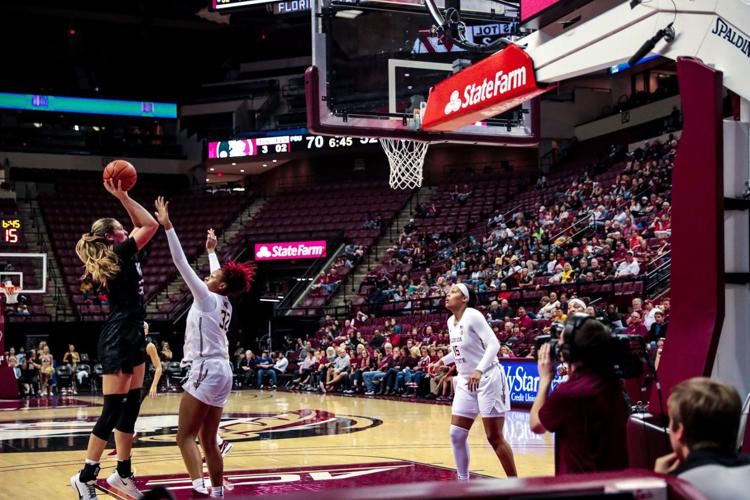 Virginia Tech (10-2) traveled to No. 8 Florida State (13-0) to open up conference play Dec. 29. The game was the first time ever the Hokies have started ACC play against a top 10 opponent. To beat a team like Florida State, multiple contributors on Virginia Tech would need to have efficient games.
The Seminoles' scoring took off in the second half and the Hokies could not keep up. Virginia Tech falls to a 0-1 ACC record after the 62-86 loss. Florida State remains undefeated on the season.
The Hokies trailed throughout the first quarter and struggled to make their 3-pointers. However, Tech kept it within single-digits and was down seven by the start of the second quarter.
Thanks to forward Lydia Rivers' 11 first-half points, the Hokies were able to keep it a close game for most of the second quarter. Florida State went on a 15-2 scoring run to close the half and give it an advantage of 12 points.
Virginia Tech shot only 32% from the field and 25% from three and only made one of its last 13 field-goal attempts to finish the first half.
The Seminoles shot red-hot to start the third quarter and maintained a 15-point cushion. Sophomore Dara Mabrey battled on both sides of the court and contributed eight points. Florida State's scoring was too much for the Hokies to handle and Tech found itself down by 17 points with 10 minutes left to play.
The fourth quarter was more of the same for Florida State and five Seminoles recorded double-digits.
A common weakness in head coach Kenny Brooks' team is turnovers. Virginia Tech averages 16.2 turnovers per game this season and committed 13 against the Seminoles. A combination of poor shooting and losing possessions allowed Florida State to really have control of the game.
However, freshman Elizabeth Kitley's performance is an important takeaway for Virginia Tech. Kitley has a high ceiling and is already doing a fantastic job taking over in the post for Regan Magarity. She finished with 14 points off seven of 10 shooting on the game along with grabbing a few rebounds. The center will be a tough obstacle to handle in Tech's future matchups.
Up next for the Hokies is two full months of ACC matchups. Tech has plenty of opportunities to prove itself worthy of the NCAA Tournament.