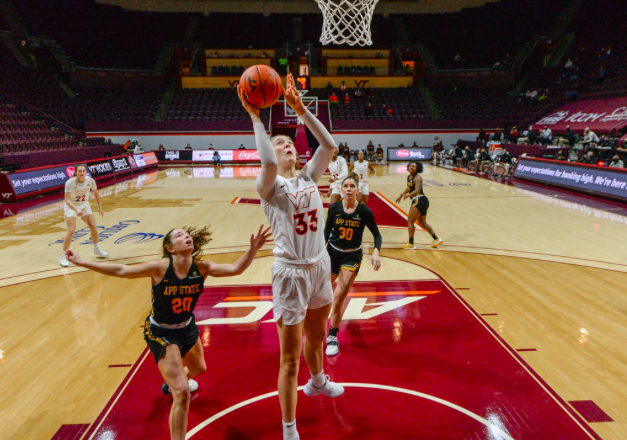 The women's basketball team cruised to an easy victory against Appalachian State in Cassell Coliseum. Virginia Tech won the game 84-59 after a great shooting night hitting 53.8% of its shots from the floor and 31.3% from behind the arc.
The Hokies were quick to gain a lead in the first quarter and started the game on a 9-0 run. They scored most of their points in the paint and secured a 19 point lead after just one quarter of play. Tech kept up the offense in the second quarter and maintained a 20 point cushion going into halftime.
Shooting started to slow down in the second half, but the Hokies still kept a healthy lead for the remainder of the game. But, Virginia Tech crashed the glass and outrebounded Appalachian State 49-38 on the game. Sophomore Elizabeth Kitley contributed to 11 of those and redshirt senior Asiah Jones added 10. Kitley recorded her forth double-double of the season with the rebounds and a career best 30 points. Her 14 field goals tied the record for a single game in Cassell Coliseum.
The Hokies committed 18 turnovers and the Mountaineers were able to score 15 points off those turnovers.
Virginia Tech advances to 4-0 on the season and will play Gardner-Webb on Dec. 6. ACC play kicks off on Dec. 10 when the Hokies take on Pittsburgh. Virginia Tech has a good chance to finish conference play on the front end of the ACC, only three ACC teams are currently ranked in the AP poll.