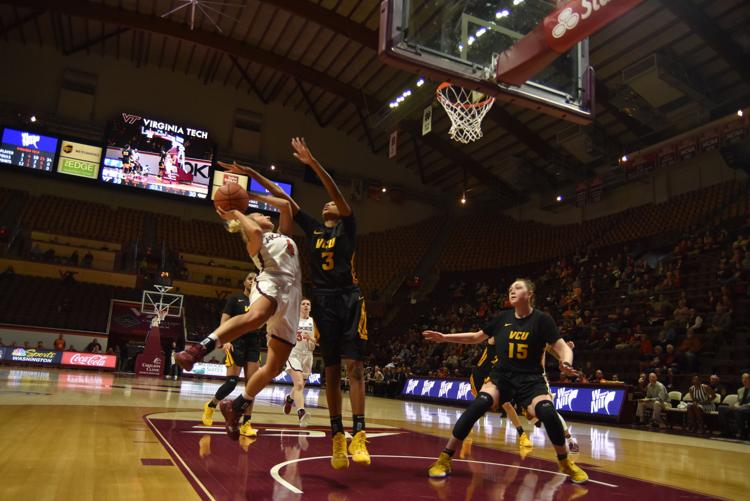 Virginia Tech's women's basketball team has lost a few key players heading into the 2019-20 season, but head coach Kenny Brooks has made it clear that going to the NCAA Tournament is his goal for his fourth year of coaching the Hokies. As always, Tech has a tough ACC schedule and has to play nationally ranked teams Louisville, Miami and Notre Dame. However, those matchups come late in the regular season, giving Brooks a chance to develop his team.
Before Tuesday's game against St. Francis, Brooks will have decisions to make on how he is going to set up his roster on the court. He is 33.1 points in deficit per game with the departures of Regan Magarity and Taylor Emery. Offense was often run through Magarity in the paint and Emery was Tech's go-to scorer from deep. Without those two on the court this season, younger players will be given a chance to step up and expand their role.
Junior Trinity Baptiste will likely find herself filling Magarity's role as a forward. Baptiste averaged 10.4 points and 7.6 rebounds per game last season. She is due for a breakout season rebounding under the glass in Magarity's absence.
Hokie fans also have high hopes for graduate transfer Taja Cole this season. At Georgia last season, she contributed 11 points and 5.3 rebounds per game. She also led the SEC in assists, averaging seven. In October, she was named to the top 20 watch list for the Nancy Lieberman Award. The award recognizes the top Division I point guard of the season and is named at the College Basketball Awards on April 10 after being narrowed down to just five nominees in March. Cole is the only ACC player to be included on the watch list.
As expected, sophomore guard Dara Mabrey will play a big role on the court. Her toughness was on display the entire 2018-19 season. Last season, she set the program record with 80 made 3-pointers. Without Emery aiding on the perimeter, Mabrey will be relied upon to shoot the three-ball.
Unfortunately for the Hokies, though, senior guard Kendyl Brooks re-injured her hip and will have to miss the entire season. This puts a bit more pressure on Mabrey and Aisha Sheppard to shoot strongly and consistently from three this season.
Brooks has brought in a few freshman weapons to develop this year. Most notable are Elizabeth Kitley and Cayla King. Kitley is a 6-foot-5 center five-star recruit ranked 33rd overall in the 2019 class. Her height will give Virginia Tech an advantage in post play in terms of rebounding and defensive efforts. In high school, Kitley excelled at blocking in the key. King signed to the Hokies as a four-star prospect and was ranked 60th in the 2019 recruiting class. King can shoot from behind the arc, while also being able to drive to the basket and draw fouls.
The first half of Virginia Tech's non-conference schedule is rather light, until the team heads to Daytona Beach, Florida, to take on Georgia on Nov. 30. The Hokies then have to play Purdue soon after as part of the ACC/Big Ten Challenge. Tech's conference play kicks off Dec. 29 when it faces No. 12 Florida State.
It will certainly be interesting to see the on-court chemistry throughout the season with this relatively new roster and how it approaches tough ACC matchups.