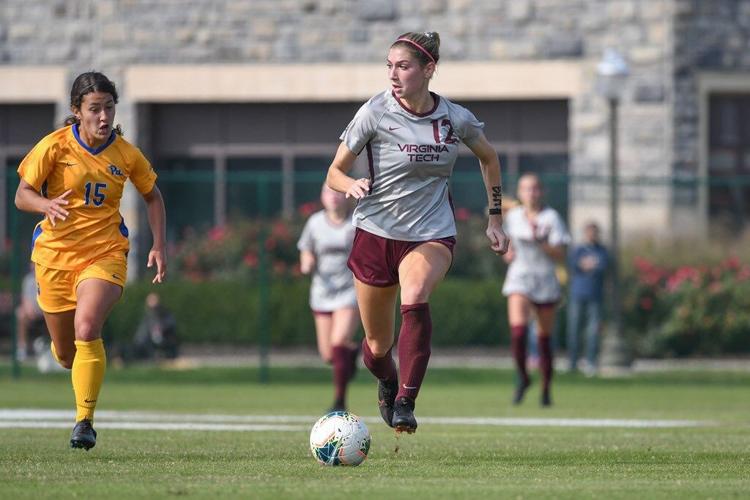 After five consecutive losses, women's soccer finally got the win it's been looking for against No. 14 Pittsburgh on Oct. 4. Virginia Tech beat the Panthers 2-0 and scored its first goals since Sept. 12. The game marks the Hokies' first win over a ranked team since 2018, and Tech remains undefeated against Pittsburgh at home.
Play was back and forth for the first 75 minutes of regulation until junior Karlie Johnson shot the ball into Pittsburgh's goal with her left foot in the 76th minute. Freshman Tori Powell gave the Hokies some breathing room with Tech's second goal in the 89th off an assist from Emmalee McCarter. It was Powell's first goal of her college career.
"I think we put everything on the field," Powell said post-game. "The team really came together, we've been needing this."
Despite the shutout, Pittsburgh fought hard and it was up to goalkeeper Alia Skinner to keep the Panthers off the board. Skinner stopped a season-high 12 shots. Seven of those saves came before halftime. Skinner has recorded 43 saves through the first six games of the season, the most of any Hokie goalkeeper in program history.
Virginia Tech's record advances to 5-1 after the win and is in 10th place in the conference standings.
"We have to get back to our winning ways moving forward, it's our goal," said coach Chugger Adair. "We're pleased with the overall result [of the game]."
Up next, the Hokies take on yet another ranked opponent in No.11 Duke on Oct. 9 in Durham, North Carolina.